"The media mismanages my culture. Out of the symphony that is called Iran, they just play one note."
Hamid Rahmanian vividly remembers both the first and last day of the Iran-Iraq War, an eight-year conflict that caused his family to periodically evacuate their native Tehran. "After a few years, we were kind of immune," he said in his Dis/placements Conversation with the Halsey Institute's Executive Director and Chief Curator, Mark Sloan. A few shelters were later built in his neighborhood, which his family utilized so that they no longer needed to leave town after every threat. Eventually, his father built a shelter underneath the family's home, which would later become Hamid's dark room where he developed pictures while studying graphic design at the very competitive Tehran University. "It was very difficult to get into, in those days," Rahmanian said. "In 1986, 17,000 [students] applied and the top thirty ranked were accepted to study graphic design. It was very tough and psychologically draining for me."
But Rahmanian excelled in the program and went on to become a successful commercial graphic designer in Tehran. By his early twenties, he was at the height of his career. He already had a huge clientele, numerous exhibitions, and about twelve employees working for him. Then one day, he read a poem by the Persian poet Saadi and his life began to shift. "The greedy ones look at the basket of fruits in front of them and are content. But we as a spectator, we are in search of a garden," Rahmanian translated during his Dis/placements Conversation. "I thought…this is like my life right now, a basket of fruit in front of me. I need to expand my horizons [and go] somewhere else."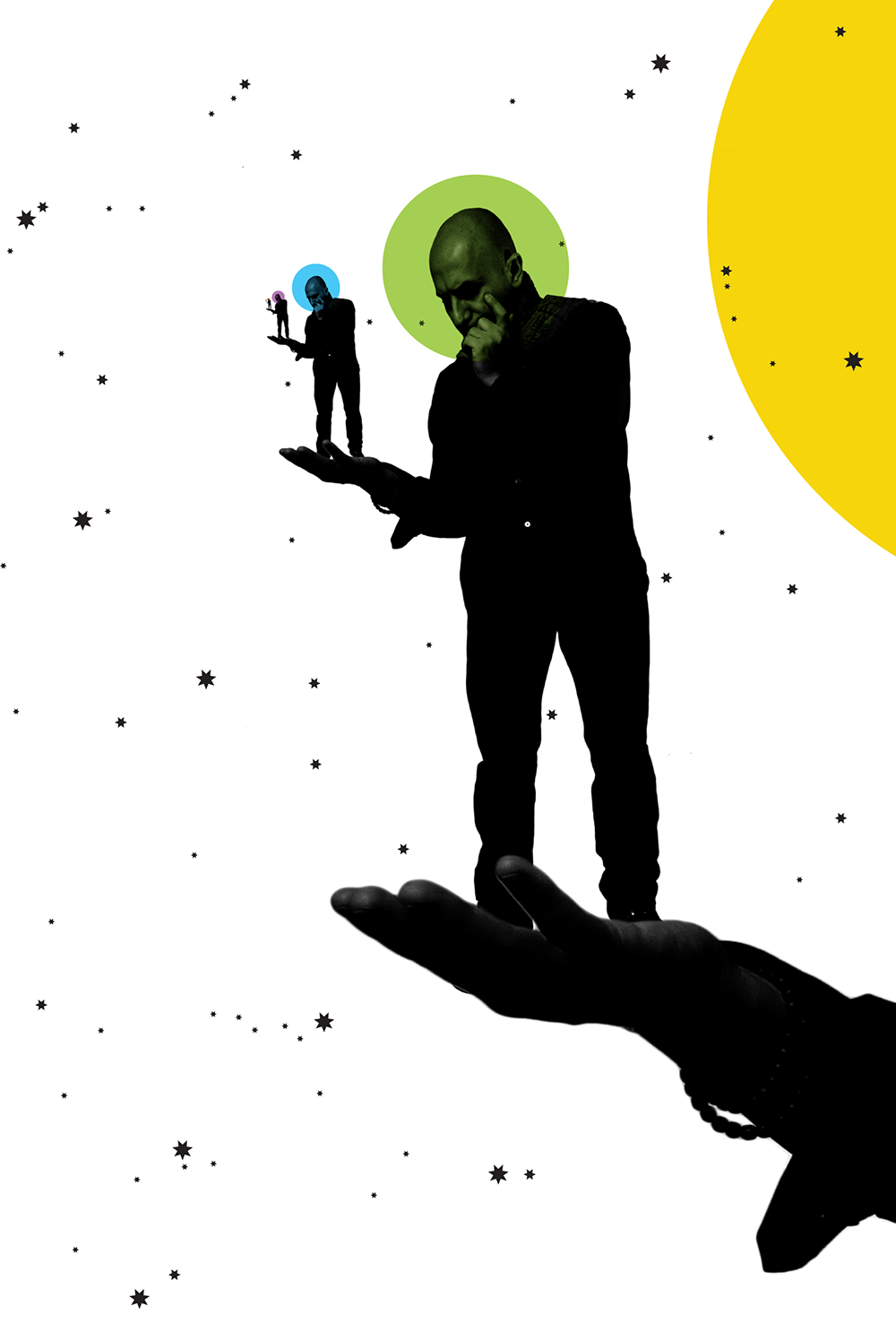 This epiphany brought him to New York, where he pursued a master's degree at Pratt Institute, dabbling in both animation and filmmaking. Rahmanian continued to thrive in his work, receiving a student academy award and Emmy for his thesis film and was hired by Disney as an animator. At first he thought he made it big by landing this job, but eventually felt like one screw in a giant machine. Disapponted, he started to make his own films and returned to Iran, wanting to become an active participant of society during a new political era. Rahmanian hoped to tell stories that created a different narrative about Iran and the Middle East. "Once you come here [to America], as an immigrant from a Muslim country, you realize that you are basically under attack; your culture, your self, everything you know about your past…and you know that you have a lot to offer to humanity, but it's all under attack. Everything you hear about us is all negative. It's all about issues." Rahmanian hoped to use his creativity to tell a different narrative and did so by making four successful films while in Iran, but felt like an outsider in while in his native home, in addition to the United States.
Using these feelings of displacement as motivation, he wrote and illustrated a graphic autobiography entitled To Myself With Love, a story about a man who lost himself and his search for home. The allegorical illustrations were later part of an exhibition Multiverse at the Halsey Institute in 2011 and a select few images are featured in Dis/placements. In the work titled, Never Going to Make It, the viewer sees a black and white image of a statuesque figure sprouting a tree where the head should be. Rahmanian alludes to when he first arrived in the United States and felt confined by his surroundings but still wanted to grow as a person. In Revolutationary Me, we witness another black and white image, this time of a group of people protesting. Figures in the background hold signs and wave their fists in the air. At the very front of the crowd, we see a small boy flying a kite. There's a red circle around his head with the label "That's me." Rahmanian recalls participating in the Iran Revolution when he was about ten years old. He had the urge to make posters and postcards, not realizing that's what he would end up doing for a living when he grew up. "In this story, the people come together and they're all looking for themselves," he says.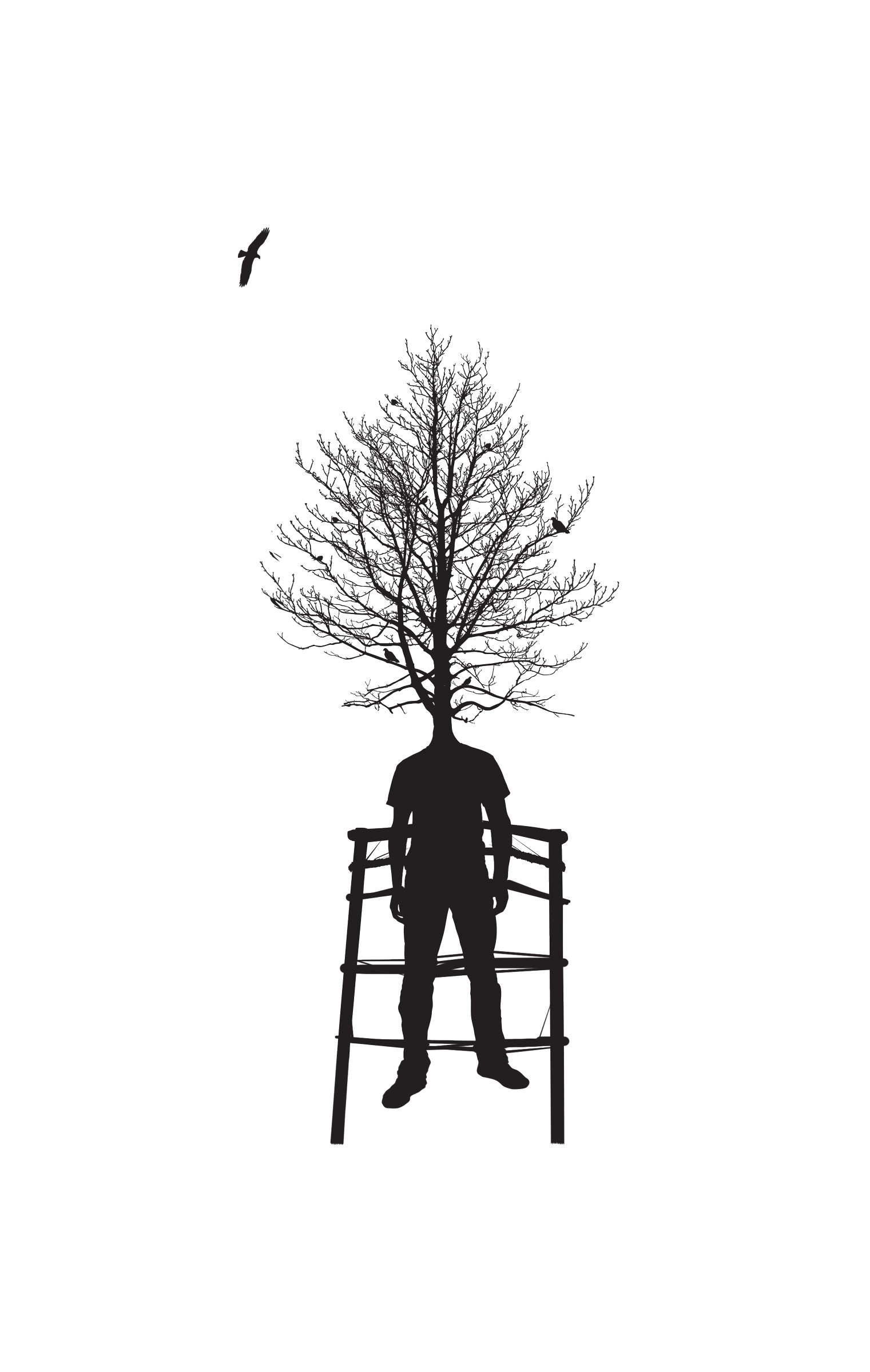 In What I Have Done, we see an illusionary image of a bald man staring at his open palm. Rahmanian chuckled as he compared his own story to the popular book The Little Prince, a story of an alien boy arriving to Earth from another planet. Rahmanian recalled feeling like an alien on a new planet when first arriving to New York. He tells the story of the time he cut all of his long hair and shaved before applying for citizenship, wanting to look like a "clean, worthy immigrant." The officer viewing his paperwork couldn't process his documents until he submitted a new headshot. "This story started when I left the federal building in Brooklyn, trying to find myself, and trying to take a new picture of myself, in order to become a legal immigrant.
To this day, Hamid Rahmanian still feels displaced at times. "I'm always in the margin, and I'm going to remain in the margin. There's no way I can be the main player." Nonetheless, he continues to persevere, creating a body of work that visually bridges the gaps of Eastern and Western societies. Some of his most notable works to date include Shahnameh: The Epic Of The Persian Kings, a visual adaptation of the tenth-century Persian epic poem Shahnameh, which became a 600-page art book illustrated and commissioned by Rahmanian. Shahnameh is the longest poem written by a single poet and is said by many to be the national identity of Iranian culture. Rahmanian continued to bring Iranian literature and visual traditions to the stage in the 2016 production of Feathers of Fire, an adaption of the Persian love story of Zaul and Rudabeh from the Shahnameh. In this production, he uses a combination of performers, 3D costumes, masks, puppets, and digital animation, all of which come to life as a live animation shadow play.

Hamid Rahmanian's work continues to focus on the people and issues of his native Iran that are rarely covered in mainstream Western media, offering us fresh perspectives and insights into a society rich in culture, art, and full of stories that need to be told. One can only hope that this constant journey of finding himself also leads to him finding his place, his home.
By Sarah Berry, education coordinator
Images:
Top – Revolutionary Me, 2006. From the Multiverse: To Myself with Love series. Archival digital print, 15" x 11" Image courtesy of the artist
Middle – What I have Done?, 2006. From the Multiverse: To Myself with Love series. Archival digital print, 15" x 11" Image courtesy of the artist
Bottom – Never Going to Make It, 2006. From the Multiverse: To Myself with Love series. Archival digital print, 15" x 11" Image courtesy of the artist