Shimon Attie might have some difficulty explaining where home is. Currently, he resides in New York City, but he might also describe California, Germany, or Israel, among other locations, as home. It seems as if Attie has spent his career moving from one city to the next to explore the history of the marginalized and to reflect on social memory and the construction of identity. "My whole life has been displaced," he said in his Virtual Conversation with Dr. Dale Rosengarten, who is the founding curator of the Jewish Heritage Collection and director of the Pearlstine/Lipov Center for Southern Jewish Culture at the College of Charleston. "When you start to live in a few places, home can start to feel a little scattered and diffused. Displacement might not necessarily be limited to a binary relationship in terms of place."
Attie's work ranges in a variety of media, including photography, site-specific installation, immersive video installation, performance, and new media. In earlier works, Attie used contemporary media to enliven architectural structures and public sites with images of their lost histories. After completing his MFA in 1991, he moved to Germany and began to make work initially about Jewish identity and the history of World War II. He first gained international attention by projecting images of past Jewish life onto contemporary locations in Berlin, forcing local people to reflect on the disappearance of their former neighbors.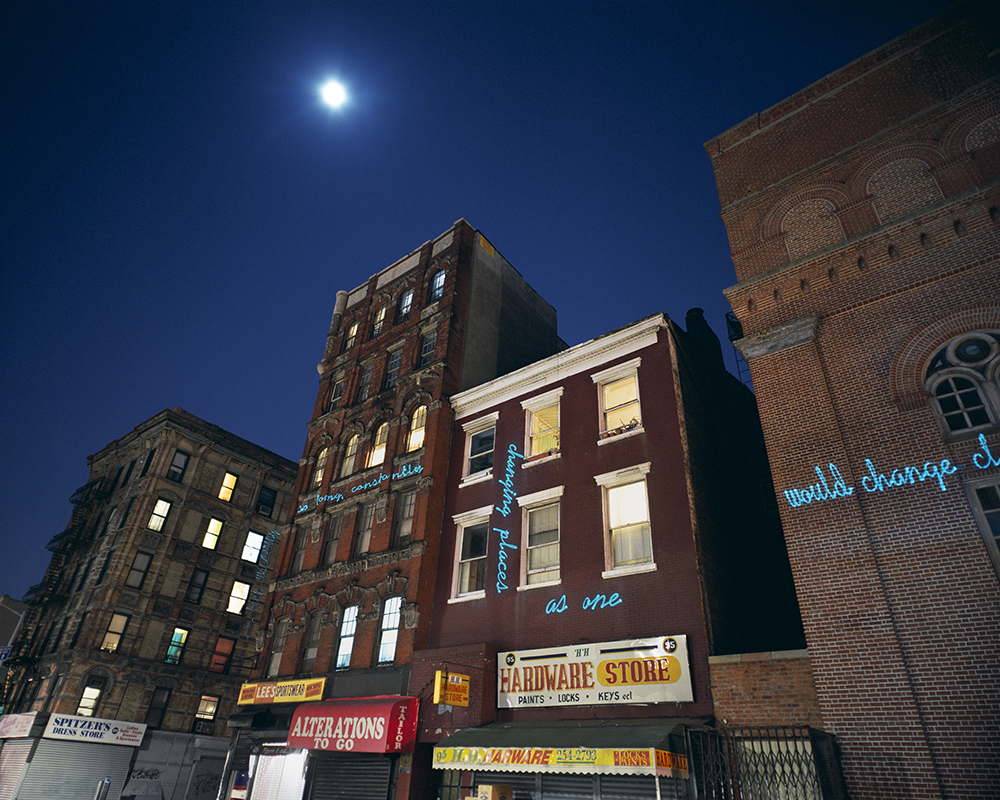 Shimon Attie's work later evolved to engage broader issues of memory, place, and identity. Recent projects have involved using a range of media to engage local communities to find new ways of representing their history, memory and potential futures. For his New York project, he interviewed 75 long-term residents of one neighborhood and asked them to write their responses in their native languages of Mandarin, Spanish, Yiddish, and English. The themes gleaned from the interviews were all related to displacement, a longing to find home again, even though the lower-east side neighborhood had been "home" for years.
For his work in Dis/placements, Attie says the images reflect where home might be, but also what home might mean. A big part of his work is searching for home, whether as a literal place or a metaphor. "Home can be inside of me. Home can be my sense of self. Home can be my family. Home can be where I live. Home can be where ancestors of mine once lived, once fled." Attie, however, believes the artist has no special insights on the impact of their work. "I want to make something that is beautiful, and I want to make something that is important. Now how that changes things, that's a much bigger conversation about art, the power and limitations of art."
By Sarah Berry, education coordinator
Images:
Top – Shimon Attie, Linienstrasse 137: Slide projection of police raid on former Jewish residents, 1920, Berlin, 1992. From The Writing on the Wall project. Chromogenic photograph and on-location installation, 20" x 24" / 33" x 40" Image courtesy of Jack Shainman Gallery, New York
Middle – Shimon Attie, Joachimstrasse/corner Auguststrasse: Slide projection of former Jewish resident, 1931, Berlin, 1992. From The Writing on the Wall project. On-location installation, chromogenic photograph, 20" x 24" / 33" x 40" Image courtesy of Jack Shainman Gallery, New York
Bottom – Shimon Attie, I've been wandering so long, constantly changing places as one would change clothes. I'm leaving now, but I remember my past as closely as tightly-sewn stitches…, 1998. From the Between Dreams and History project. On-location installation of lasers writing out Chinese senior's favorite song from youth, chromogenic photograph, 30" x 37" Image courtesy of Jack Shainman Gallery, New York