This post is the fifth in a five-part series by Dr. Mary Trent, College of Charleston instructor in Art and Architectural History and Southbound project contributor, that highlights the extensive K-12 outreach program correlating to the Southbound project, Capturing #MySouth.
---
What does home mean to middle and high-school students living in the tri-county area? What memories inform their concept of place and what it means to live here in the Southern United States? As part of the Halsey Institute of Contemporary Art's Capturing #MySouth program, Charleston author Cinelle Barnes has been leading workshops with local students in seven schools to help them put into words formative memories and associations with the concept of home.
Teens and preteens are people who tend to clamp up, especially if asked to talk about emotions. Yet, Barnes has been able to get them to share very tender and vulnerable stories with each other. To do so, she first gets students to use something tactile and visual to summon up memories and help them loosen up. In her own work, she has found that the best path to words is through drawing. So, she shares with students her own experience using drawing and mapmaking in the conception and writing of her book, Monsoon Mansion: A Memoir, which she wrote here in Charleston. On the classroom board or on a large piece of paper on the wall she draws a simple plan of her childhood home. As she proceeds to fill in the basic structure of the various rooms, she shares with them tactile, visual, and anecdotal elements of her memories. These help her build the character of her mother, a central figure in her memoir and of the Long Dark Hallway, a suspenseful, meaningful place.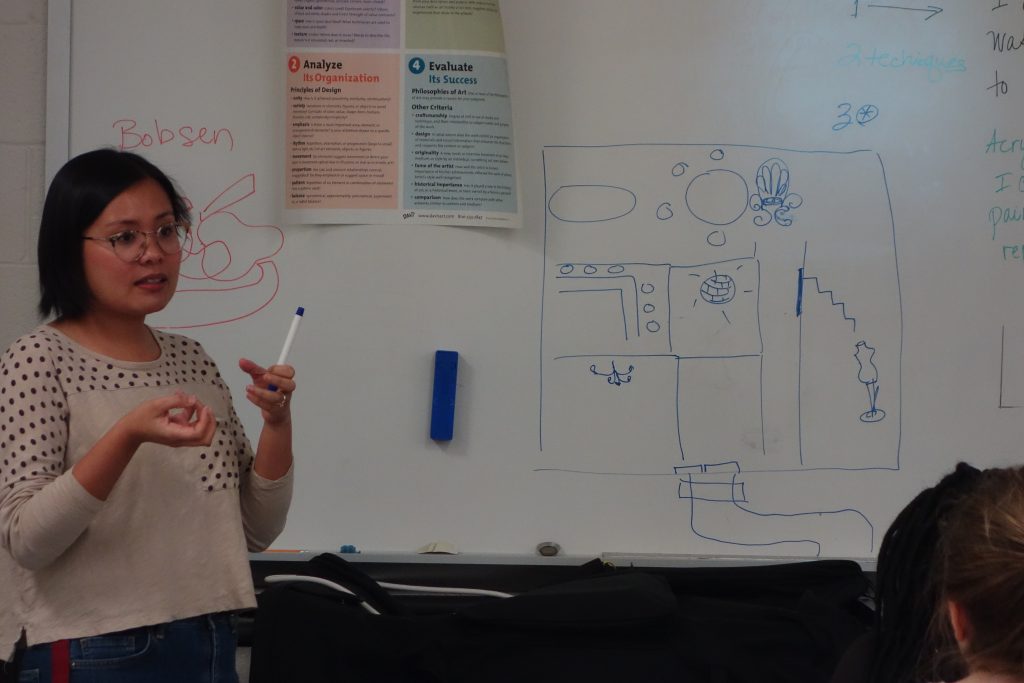 After sharing her own story, she then asks the students to draw a place they call home or in which they have meaningful memories. She prompts them to use the drawing to then write a story of some change that happened there, some person they will never forget, or something else that really formed them related to the place they drew. She asks them to use sensorial terms, to really describe the smells, sights, sounds, tastes and textures of the memory, such as the smell of potpourri in their grandma's house.
She has found that she very rarely has to coach the students in their writing because the act of drawing first is so productive and generative for the them. With only one exception, all students have then felt comfortable sharing their stories with the class, even though some stories are quite personal or even traumatic. Barnes asserts that people, even young students, are born storytellers and want to share their stories. She has found that "people are dying to be given an avenue, skill, or strategy to help them share." Barnes's sensitive introduction to the process of nonfiction writing gives them the confidence and skills to find the words to do so. And, her instruction is complemented by introductions to communicating through photography that students are also receiving in workshops with professional photographers included in the Halsey's current exhibition Southbound: Photographs of and about the New South as part of Capturing #MySouth. By the end of the project, students will use the tools they have been given to present their own stories and images of what it means to them to live in the Lowcountry today.