Katie McCampbell (KM): When did you first start working with plastic? What led you to this material? Beyond the environmental component, what interests you about plastic?
Aurora Robson (AR): I started working with plastic in 2004. I was initially seduced by the ubiquitous nature of this material. It is inexpensive, if not free, which makes experimenting with it less of a financial consideration. In a sense, the material becomes immaterial from the onset, which is liberating from a creative standpoint. Plastic comes in a variety of great shapes that are constantly in flux. This gives plastic an organic aspect that I find extremely compelling.
I love that plastic is so pliable a material. It bends so well to our whims. A sculpture material that is so versatile should be seen as an asset for artists and designers everywhere. I am surprised that so few artists are focused on exploring its potential in safe and sustainable ways since it lasts so long in the natural environment. It is merely displaced abundance that should be handled with more care. Really, no more virgin plastic should be created. There is enough plastic in our landfills to power every car in Los Angeles for a year, as petroleum is a primary component in most plastic.
Plastic also has archival integrity built into it. Obviously, this is terrible for the environment, but it is well suited to a work of art. We have an illogical bias towards plastic: we think of it as disposable trash—yet our consumption of it continues to grow. It isn't bio-degradable, so it isn't going away. Plastic is the antithesis of disposable; we are confused as a society. Most plastics take hundreds to thousands of years to break down; when they do they only become more insidious toxic pollution—micro-plastics.
I also find our intimate relationship with plastic endlessly compelling. Why do we trust it, love it, covet it, and then abuse and ignore it, imagining that it just disappears like a star-crossed lover? We put this material in our mouths and bodies and in our babies' mouths and bodies. This degree of intimacy coupled with the fact that we generally know so little about what the chemical compositions of plastics are and what kind of adverse effects such chemicals and plasticizers have on human health makes it all pretty worthy of inquiry from my standpoint. In plastic we trust.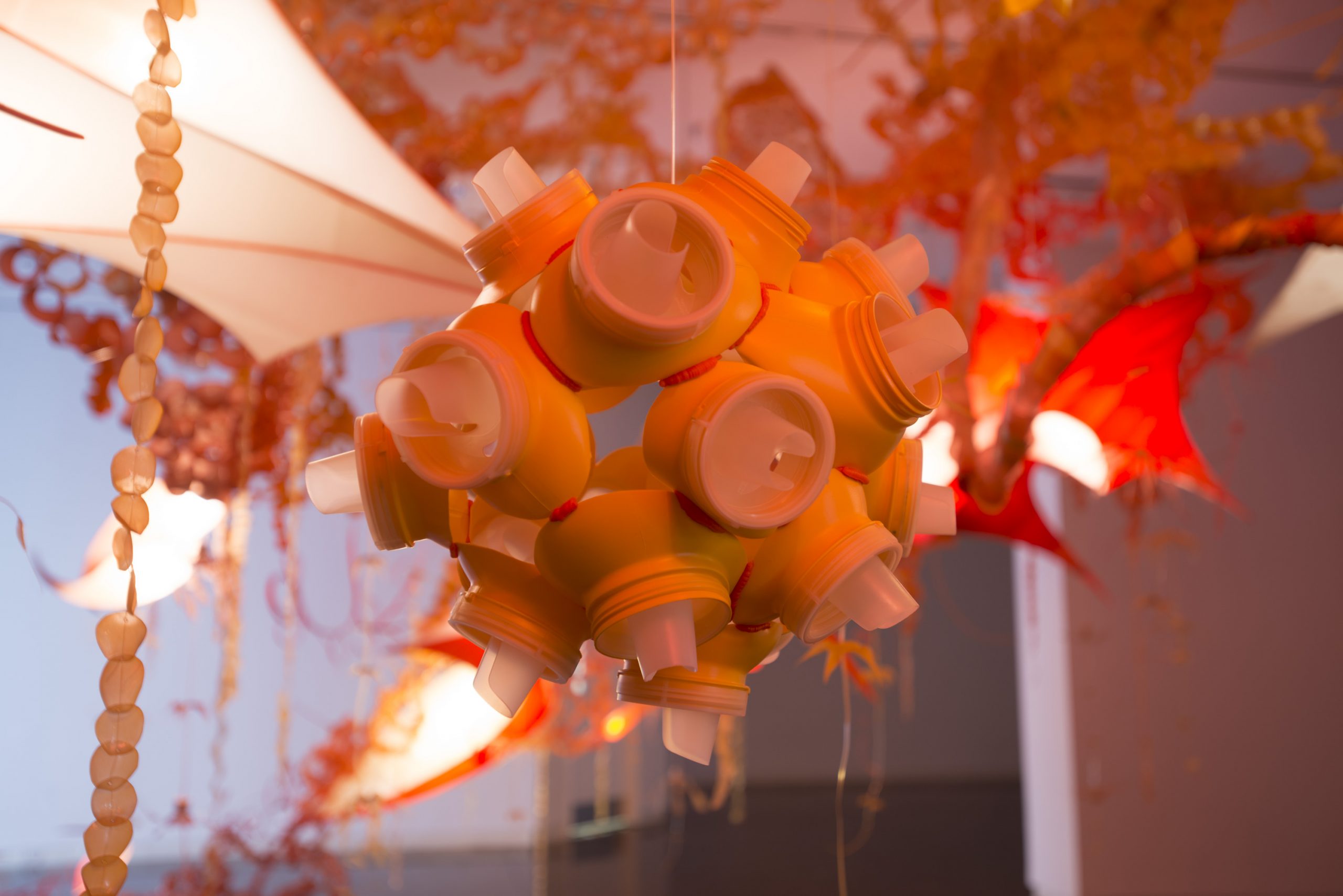 KM: You're installing a work in the Halsey Institute's Deborah A. Chalsty Gallery. As an artist, do you find yourself experiencing your work in a different way when you install in a new space? How are you thinking of the viewer during this process?
AR: I really like to respond to the architecture of a given space with my work. For that, site visits are essential. When I visited the Halsey Institute's Chalsty Gallery, I was struck by its meandering nature and the many interesting vantage points it offers. I love that there are so many nooks and corners. I wanted to give the viewers opportunities to enjoy all the different places from which they can experience the piece. I hope that people will enjoy the work while taking some time to reflect on what it means, how it is offering a service to them, and why I am making this work. I think of the viewer as a fellow traveler who, like me, needs respite and inspiration from time to time. I hope that the work can provide that while showing that there is light, even in the darkest of circumstances.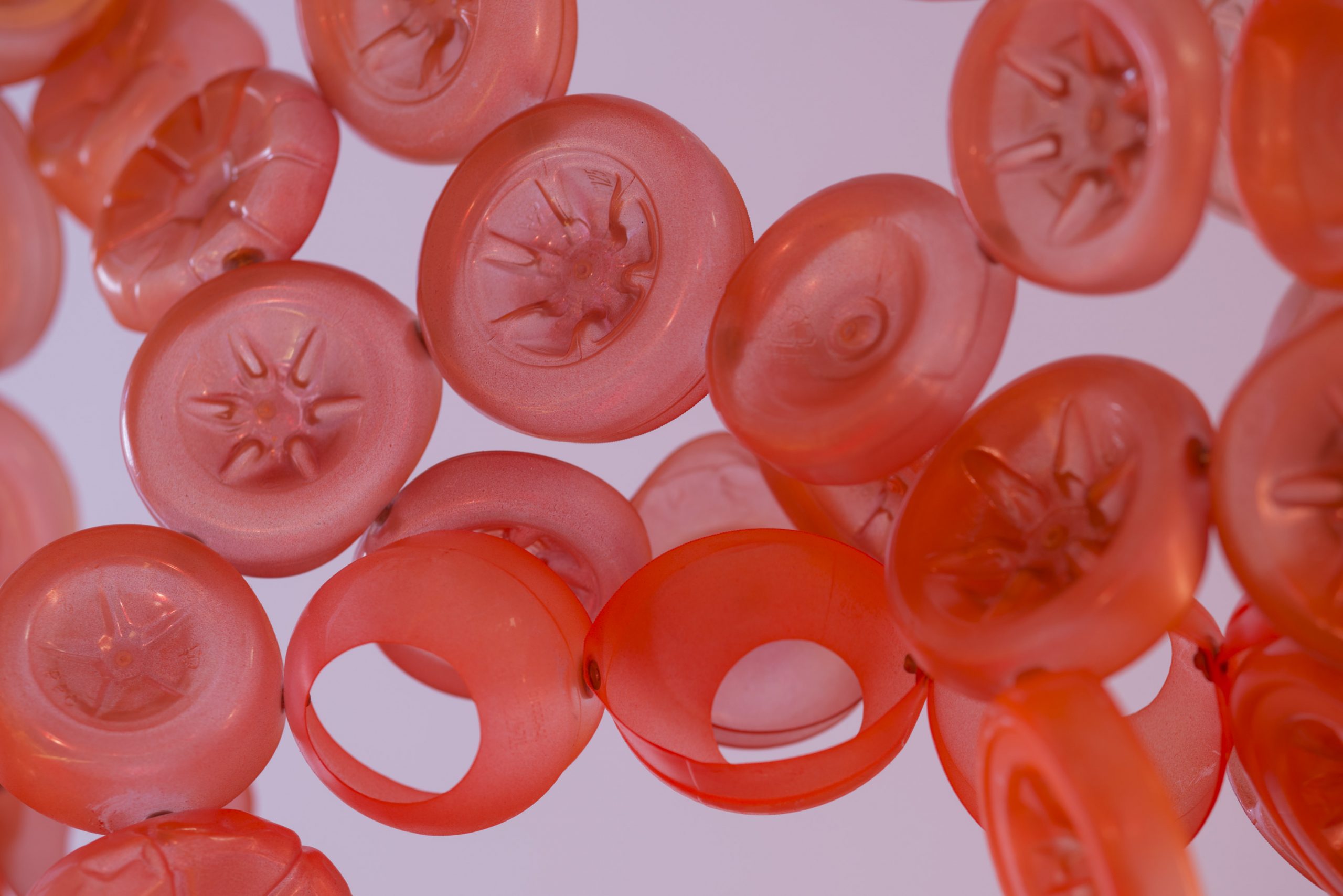 KM: What excites/interests you about creating work for display in Charleston in particular?
AR: Charleston has a high contrast history and culture. Due to my personal background, I find this verycomforting and familiar. I also love the scale of Charleston and the proximity to the ocean. It makes it ideal to me since the ocean and its inhabitants represents the biggest victim of our mishandling of plastics. The SC Aquarium is working with me to create a greater degree of local engagement, which is fantastic. Charleston is so diverse in terms of class, race, and socio-economic status, which is very appealing to me.
I love that as a city it is growing; which means there are chances for new environmentally conscientiousinfrastructure to be implemented. Perhaps with enough engagement and awareness around this exhibit, the plastic pollution footprint of the city can be reduced moving forward. I am also excited that my course,Sculpture and Intercepting the Waste Stream, is going to be implemented at the College of Charleston. It seems there is great potential for a lovely ripple effect to take place here. Either way, Charleston has some real estate in my heart already. Every time I visit, I enjoy delicious food, meet wonderful people, have moving conversations, and experience incredible art, culture, and harmony. I think there is great potential in creating platforms for dialogue that are not elitist or exclusive in anyway but that appeal to and are relevant to all residents. I hope my work can serve as a catalyst in Charleston to help people reach each other in order to have new, fruitful dialogues resultant in positive action.
You can find the complete interview in the SEA CHANGE exhibition booklet on Aurora Robson's exhibition page on our website.