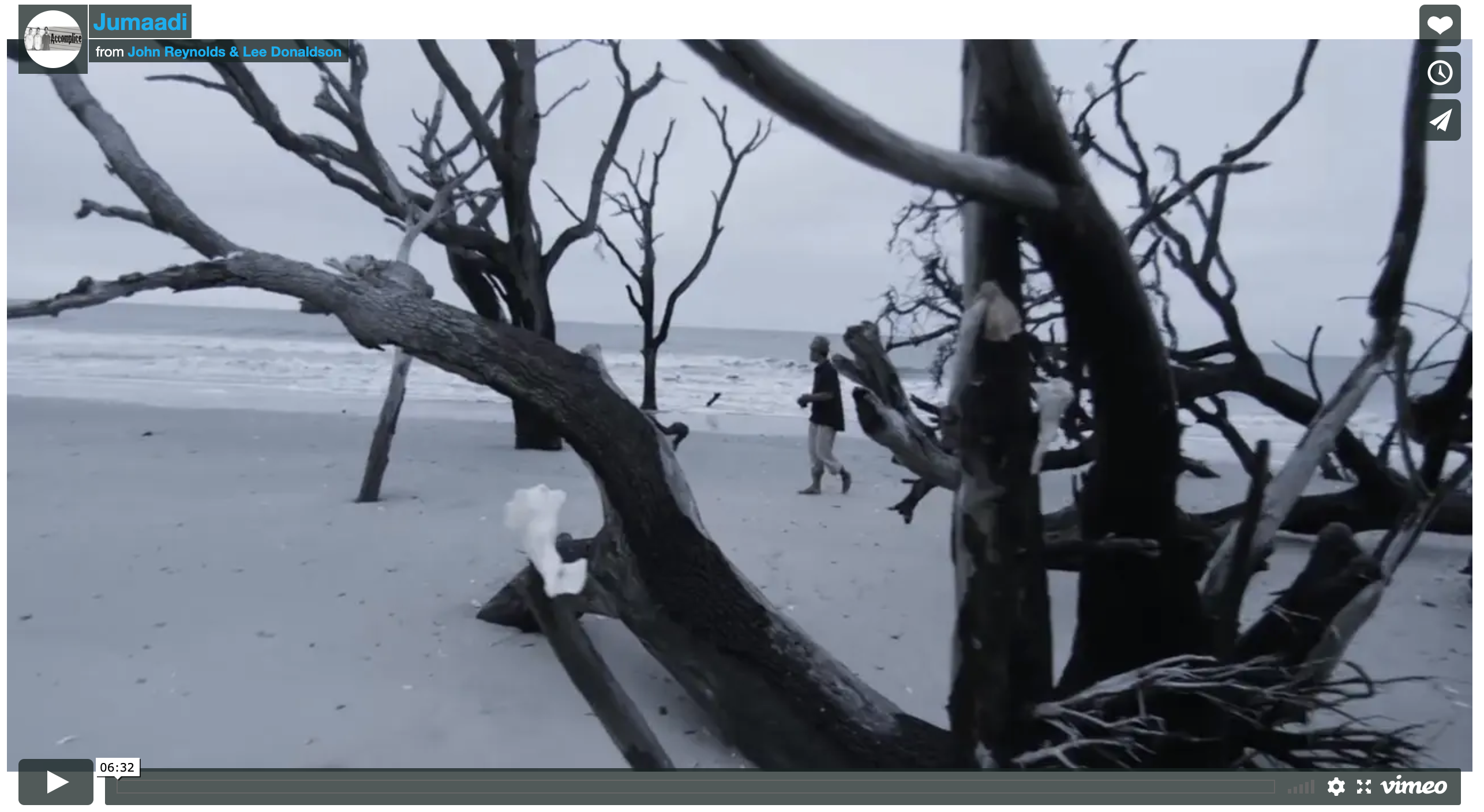 Jumaadi: Forgive me not to miss you not
This short video introduces the artist interacting with nature and creating art and movement on the beach any Botany Bay wildlife preserve on Edisto Island, SC. He grew up on a shrimp farm in a small village in Indonesia where he tended hundreds of ducks and protected the family's fish and shrimp. His family did not promote him pursuing art, so he began seriously drawing and painting in his mid-twenties. He finds inspiration and guidance from nature, claiming that it gives him and his works life. This brief look into the artist's creative process illuminates the childlike wonder and playfulness that is infused into his multimedia work.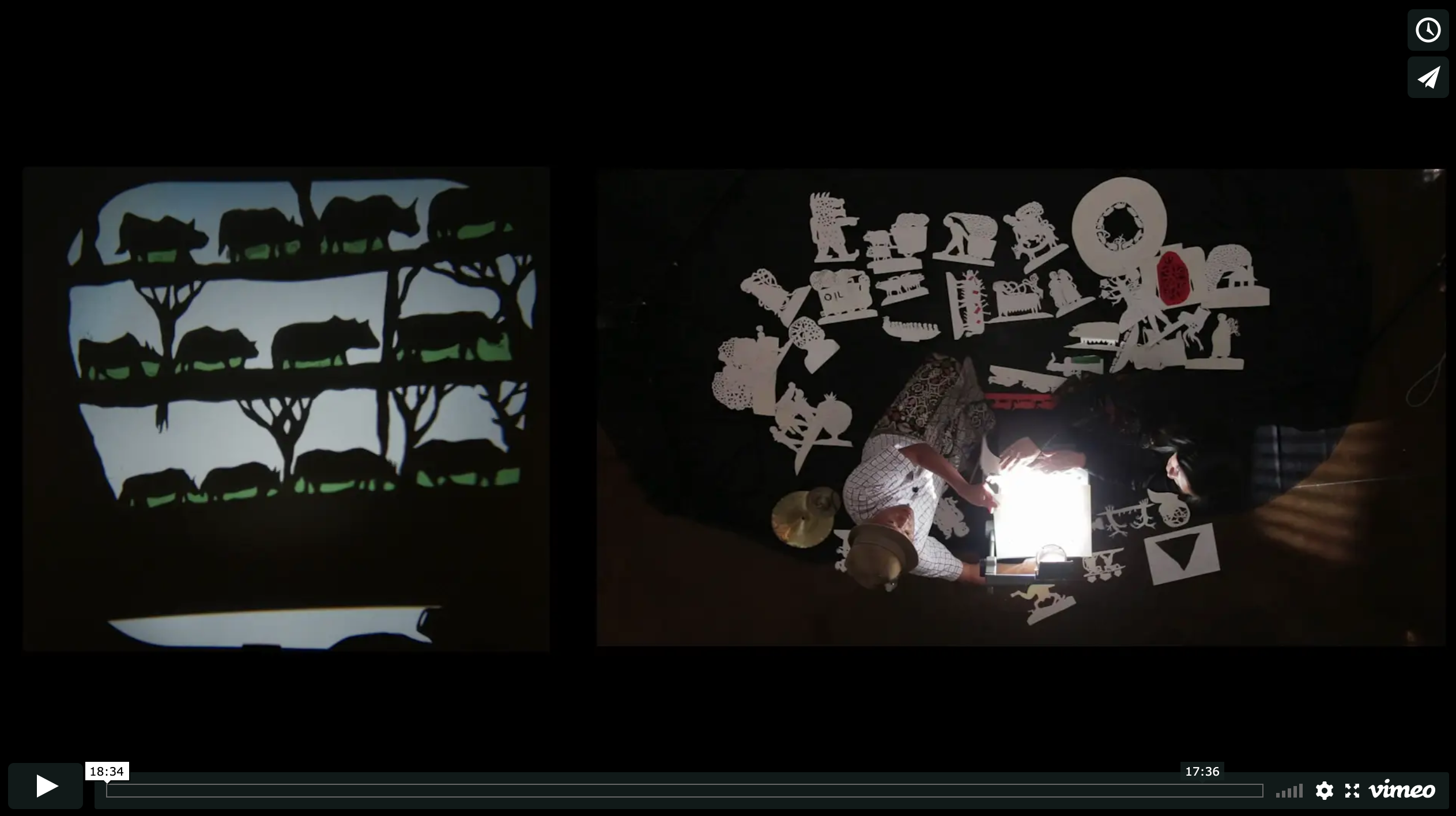 Bring me back my body and I will return your soul
This video pulls viewers into the creation of Jumaadi's shadow puppet work by giving two perspectives of the show. We can watch the shadows on the wall while also having a bird's eye view of the projector and the paper puppets surrounding Jumaadi and Arlene Felipe on the floor. The puppets are accompanied by Geoffrey Cormier and James Carrier on percussion, voice, gamelan, and recorder, with primary vocals by Hazel Kethcum. The experience creates and maintains an intimate and an ethereal feeling through the sparse music and constant motion.

"Bloodline" by Livy Conner
This live performance by Livy Conner and Jumaadi creates a raw interaction of projection and music. The puppets moved to Conner's nuanced acoustic guitar and vocal performance, sometimes coming to greet her at the edge of the projection. The result is a surreal musical and artistic experience of sound and light moving together.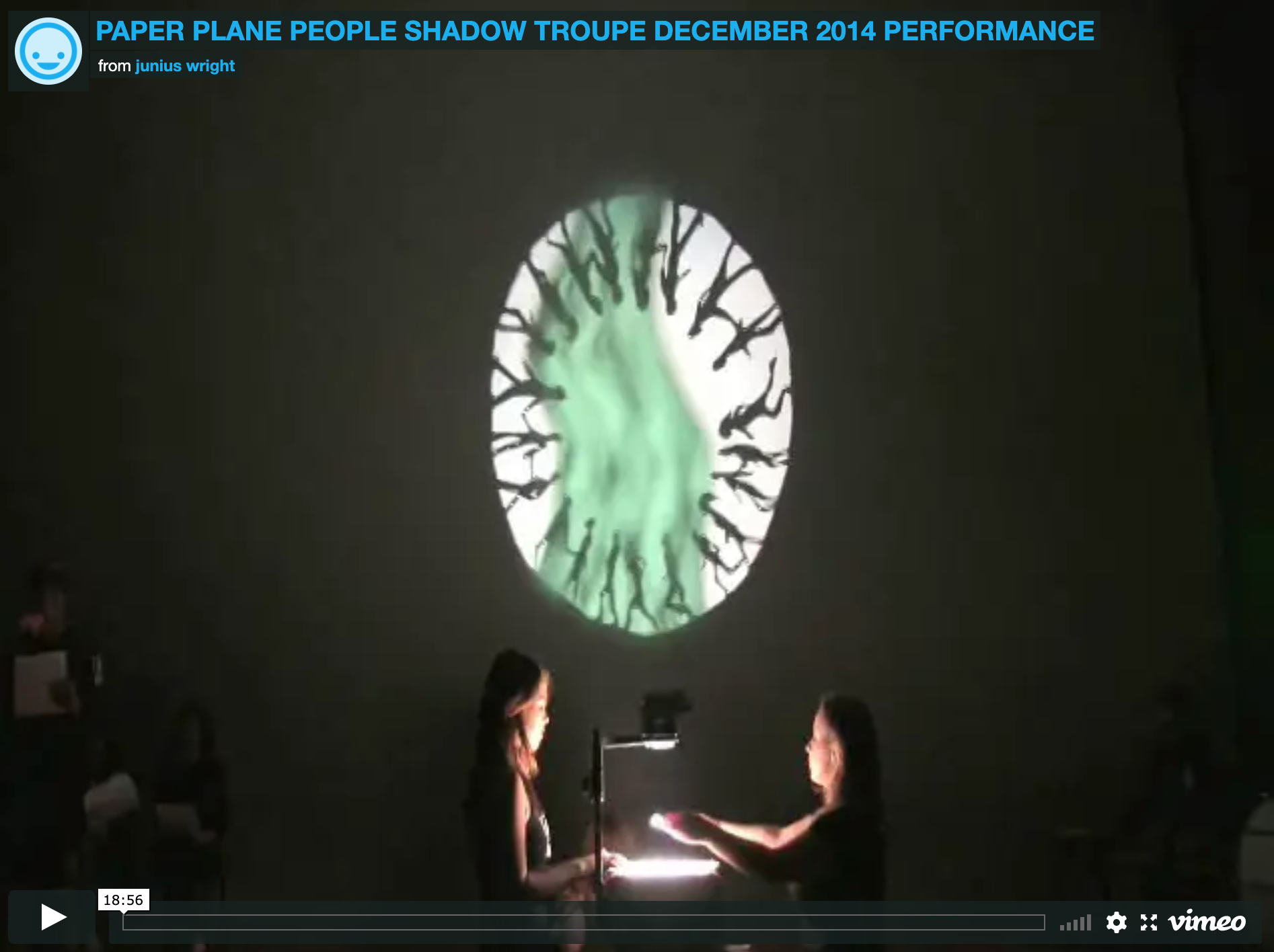 Paper Plane People Shadow Troupe December 2014 performance
This series of short shadow puppet shows was created and performed by students at the Academic Magnet High School in North Charleston, SC after Jumaadi's residence at the school. It consists of eleven stories written by the students and brought to life with puppets they created. The stories have wide-ranging topics, though like Jumaadi's art, they all connect with a common connection to nature.
The stories are:
Envy in the Skies by Sophie Bello (who went on to become a Halsey Institute intern in summer 2019)
And then the River Ran Dry by Mackinzie Jenkins
Birds by Maya Hayley
Above the Surface by Natasha Tirpak
Heartbeat by Grace Beischel
Timeless City by Nathaniel Leroy
The Great Sage of the Mountain by Olive Gardner
Metamorphosis by Grace Cristoph
Detrimental Decisions by James Reding
The Long-forgotten Alchemist by India Manigault
Division by Charlotte Lucas
By Madeleine Mitchell