Art stars, Superstars, Deathstars: The Art of Fame in Ray Johnson & Andy Warhol: A lecture by Ellen Levy
Thursday, November 14, 2019
7:00 PM
School of Sciences and Mathematics Building Lecture Hall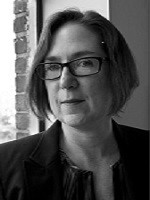 Ray Johnson and Andy Warhol were friends with much in common: both were pioneers of Pop Art and connoisseurs of fame, and they shared a special fascination with celebrity's dark side. This talk by Ellen Levy, professor at Pratt Institute in New York City, traces the initially convergent but finally divergent paths of the two artists as they negotiated the worlds of stardom and superstardom, both in art and in life. Ellen Levy writes on the relations among the arts, especially poetry and visual art, particularly in mid-twentieth-century New York. She is currently working on a book about the career of artist Ray Johnson.
In 2016, the Halsey Institute presented the exhibition Correspondence Art: Words, Objects, and Images, featuring the work of Ray Johnson, along with Richard C., and Bob Ray. In the essay for the exhibition, curator Mark Sloan writes:
Ray Johnson (1927–95) is often cited as among the first to activate the unusual practice of mail art in the mainstream art world. Johnson founded the New York Correspondance [(sic)] School, a network of mail artists. He was a student of Joseph Albers (and others) at Black Mountain College in the 1950s, and later became a fixture in the New York art world, from the late 1950s until his self-exile on Long Island in the 1980s. Although Johnson did not proclaim a formal alliance with Fluxus, the Fluxus artists were among the first to recognize the potential of using the postal service as an economical method of communicating ideas on a global scale.
Richard C. and Ray Johnson had a voluminous correspondence over the years, beginning in the late 1960s and terminating with Johnson's suicide, in 1995. C. organized a major exhibition of Johnson's correspondence art for the North Carolina Museum of Art, in Raleigh, in 1976 (involving more than eighty contributors), called Correspondence: An Exhibition of the Letters of Ray Johnson. This exhibition sought to take measure of Johnson's voluminous output, and to draw attention to his unorthodox methodology.
Bob Ray had a brief correspondence with Ray Johnson during the early 1990s, and has had an ongoing exchange with Richard C. since those very same days. This exhibition features a combination of works: some historical works from Ray Johnson to Richard C., some from Richard C. and Bob Ray to me, and some collaborative works, altered by both Richard C. and Bob Ray to me. The range of materials sent to me here at the Halsey Institute of Contemporary Art is, in itself, a testament to the variety and diversity of the genre of correspondence art.
This event is co-sponsored with the Department of Philosophy at the College of Charleston.
Above image: Installation view of works by Ray Johnson in Correspondence Art: Words, Objects, and Images, 2016. Halsey Institute of Contemporary Art. Photo by Rick Rhodes.
Art stars, Superstars, Deathstars: The Art of Fame in Ray Johnson & Andy Warhol: A lecture by Ellen Levy
Thursday, November 14, 2019
7:00 PM
School of Sciences and Mathematics Building Lecture Hall