above: Lilli Cameron, ​Disconnected II, 2​019. Ink and white charcoal on paper.
In April, the interns at the Halsey Institute will be interviewing a small selection of artists included in Young Contemporaries 2020. In this post, Shields Norvell interviews artist Lilli Cameron.
Visit the virtual exhibition here.
The talented artist, Lilli Cameron, is a senior at the College of Charleston and is pursuing the rigorous course load of double majoring in Studio Art and Arts Management in addition to minoring in Art History. This is Lilli's 3rd year in a row displaying her work in Young Contemporaries, proving herself to be a successful and well received artist. She explores the ideas of identity and self-reflection through her work allowing for the raw and unsaturated presentation of her work to resonate with a universal audience. Lilli achieves a unique twist on realism by working primarily with grey scale. I was initially stunned by her ability to communicate the feeling vulnerability and after interviewing her was left inspired! Look out for what Lilli Cameron has in store next!
This is your 3rd year being part of Young Contemporaries, what has been the most rewarding part of being involved in YC?
The most rewarding part to me is getting to see my work up alongside so many other talented artists. A lot of the other artists are my friends and classmates so it just makes me happy to see all of our hard work up in a place like the Halsey.
How did you first become inclined to pursue an artistic path?
I know this is a basic answer, but I just couldn't imagine doing anything else. I've been drawing for as long as I can remember and it's always been very therapeutic for me.
How would you define your artistic style?
If I had to define it I guess I would say it's sort of a minimalist approach at realism if that makes sense. I like working from real people and real moments and breaking them down to a more simple and digestible interpretation of it.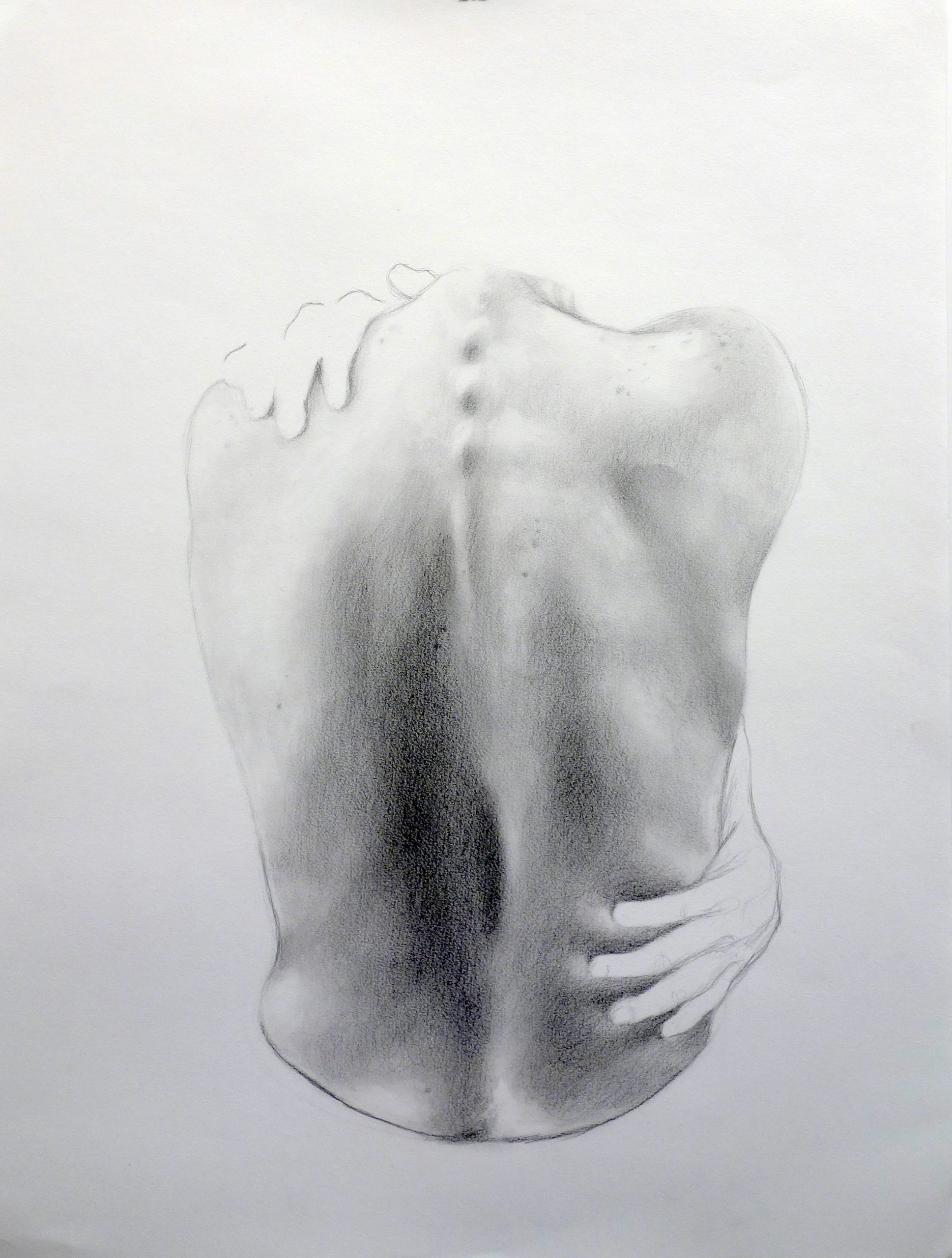 Lilli Cameron, ​Disconnected III, ​2019. Graphite on paper.
Based on your site I noticed that you primarily work with a grey scale and use graphite and watercolor–what makes you drawn to these mediums and why do you typically stray away from using color?
I find the real world to be a little chaotic and stressful sometimes with all of its colors and sounds and movement. It can be kind of a sensory overload for me at times. So whenever I'm making my art, I usually tend to stick to a grey scale as a way to simplify whatever I'm trying to explore.
What do you aim to communicate to the audience through your work?
I hope to communicate a sort of self-reflection through my work. I don't usually have a single message that I'm trying to convey, it's more of just my own self reflection and discoveries that I hope other people can relate to in their own ways.
Where do you find the inspiration behind your work?
I mostly find inspiration in my everyday life. I think there's a lot of beauty in simple moments and connections with people that I like to explore in my work.
Can you describe your artistic process?
I usually start with a vague idea or feeling that I want to work through in my art. Since I work mostly from photographs I try to take as many pictures as I can and then I start making small sketches to get an idea of the compositions that I want. And then because I tend to work in a lot of different mediums my process of actually making the work always changes.
What is your dream job/what do you plan to do post graduation?
I'm currently planning on moving to Asheville, NC after graduation but that is about as far as I've gotten! I just plan on staying open to opportunities and just see what happens from there.
How are you staying creative in the midst of COVID-19?
I've been working a lot on my senior thesis work. It was a little difficult to transfer from working in a studio to working in my bedroom but I'm still managing to get it done! And outside of that I've just been listening to a lot of music and doing some sketches of random things around my apartment that I probably never would have thought to draw if I wasn't stuck inside with nothing else to do!