Our fall intern Matty explores work by Kirsten Stolle beyond her exhibition Only You Can Prevent A Forest. Check out the rest of this blog post to learn about Stolle's bodies of work commenting on the systemic exclusion of women artists in the art historical canon.
---
Kirsten Stolle's exhibition, Only You Can Prevent A Forest, presents several of her works that critique big agrochemical companies like Monsanto and Bayer for polluting the environment with their products. Her exhibition is a mix of styles and materials, including collages, prints, sculptures, and more. Beyond the exhibition, many of Stolle's other works create similar conversations on environmental exploitation, pollution, and genetic modification by the agriculture industry. Interestingly, three of her past series also focus on the exploitation of people and prejudices towards women. These series are Deconstructing Janson (2019), de-identified (2014-2015), and Grand Order of the Invisibles (2015).
Stolle's Deconstructing Janson project utilizes collage, annotation, and dissection of materials to emphasize the lack of women artists in Janson's History of Art, a textbook that has been widely used in art historical teachings since 1962. Stolle explores the impact of this textbook and the systemic exclusion of women artists in the art historical canon altogether. Deconstructing Janson is composed of five parts: Deconstructing Janson, Obit, Chronology of Painters, 13 Reasons Why There Are No Great Male Artists, and Hedda.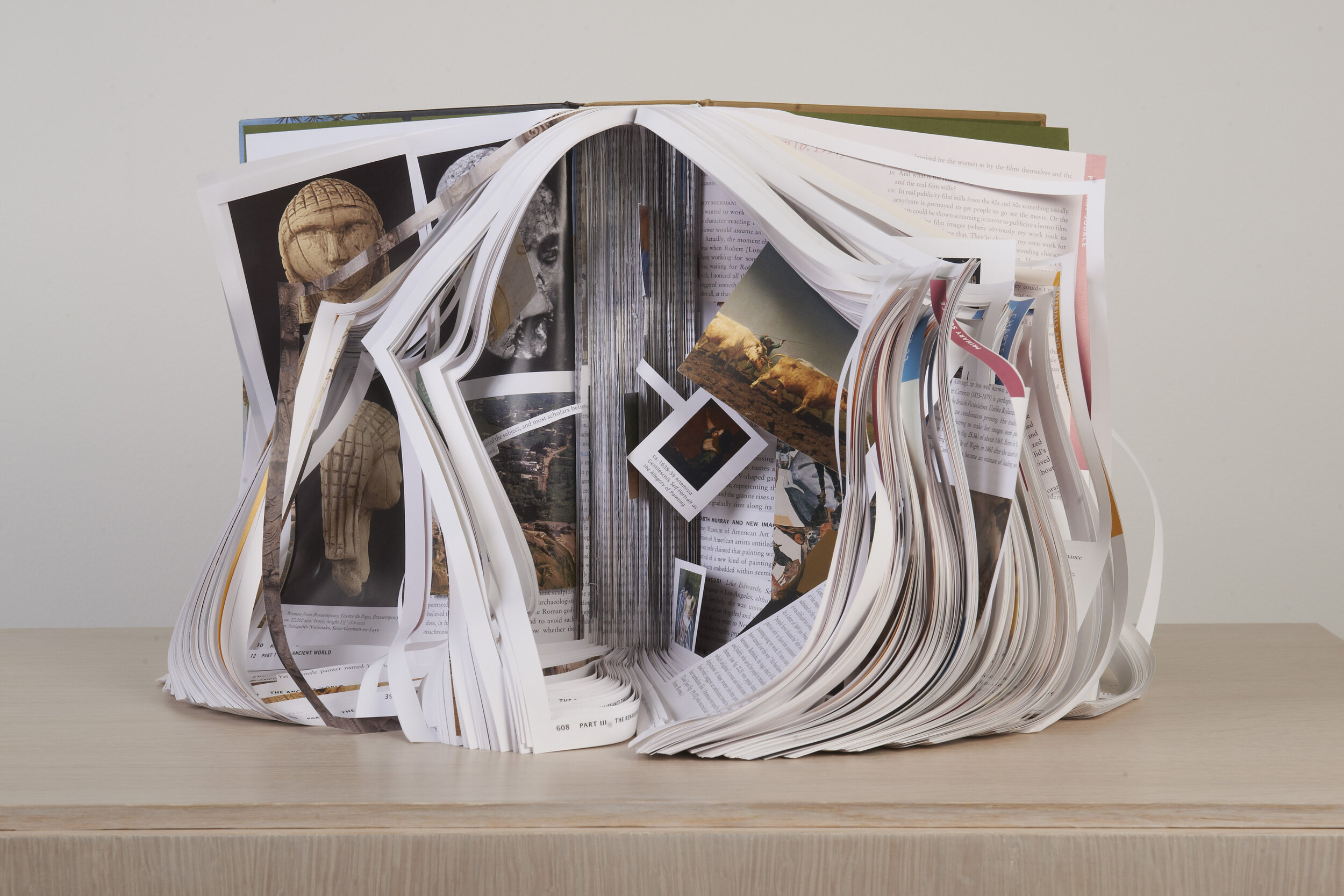 Deconstructing Janson consists of the physical dissection of Janson's book, removing all of the male artists to show the gender disparity between male and female artists discussed in the book. Obit is the 1982 New York Times obituary of H.W. Janson annotated to highlight the contradiction between his glamorized academic life versus the reality of his Eurocentric, misogynistic views of art history. Chronology of Painters takes a chronological chart of painters and also cuts out the male painters to show how few women artists are acknowledged.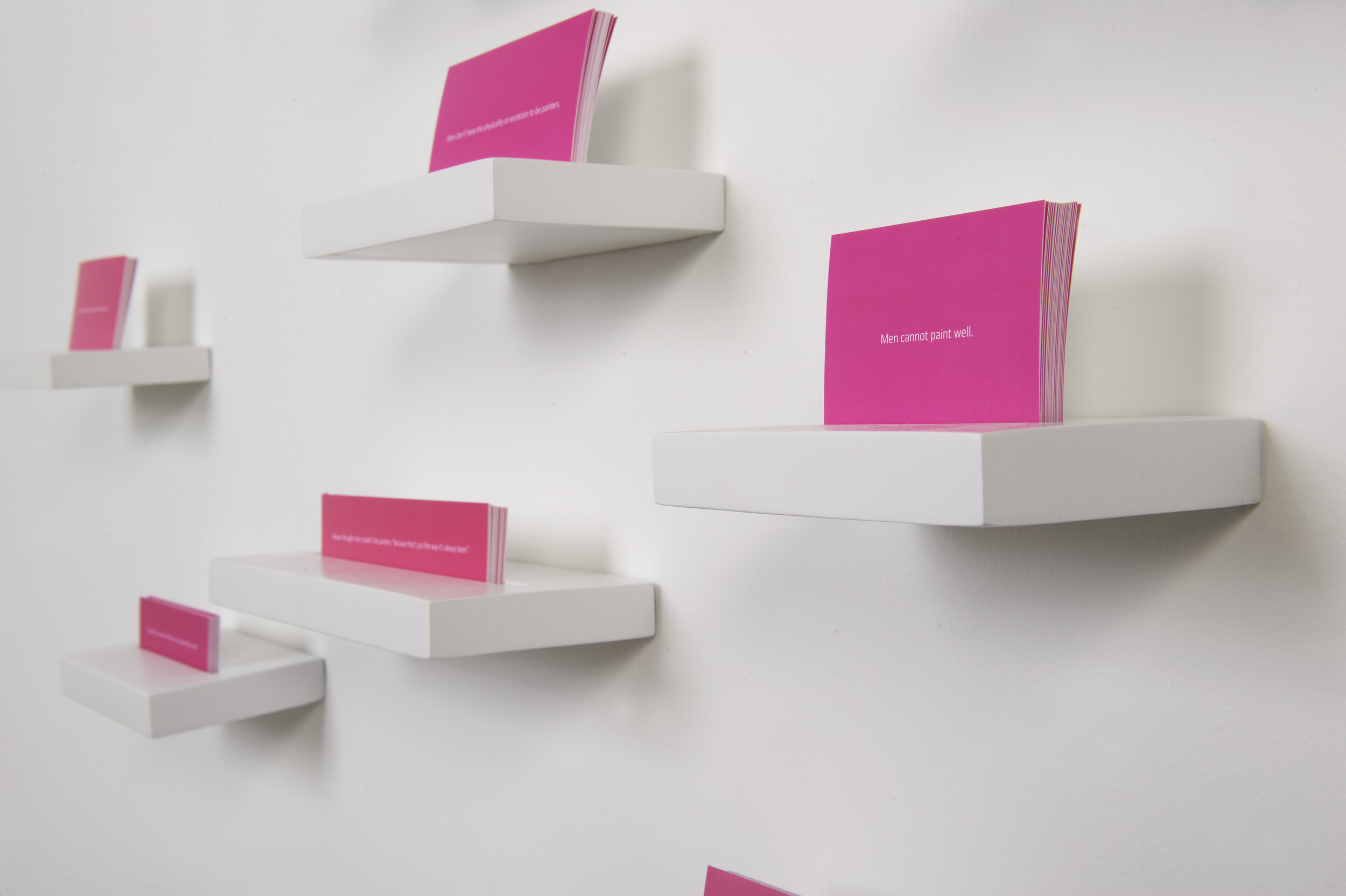 13 Reasons Why There Are No Great Male Artists is a selection of common sexist statements by men of the art world regarding female artists that were then inverted to be about men, thus reversing the roles. They were made into calling cards for viewers to take home. Hedda examines a Life Magazine image of 15 abstract expressionists and Stolle makes eight different collages to emphasize the gender disparity and lack of acknowledgment of female artists, as seen in this literal documentation.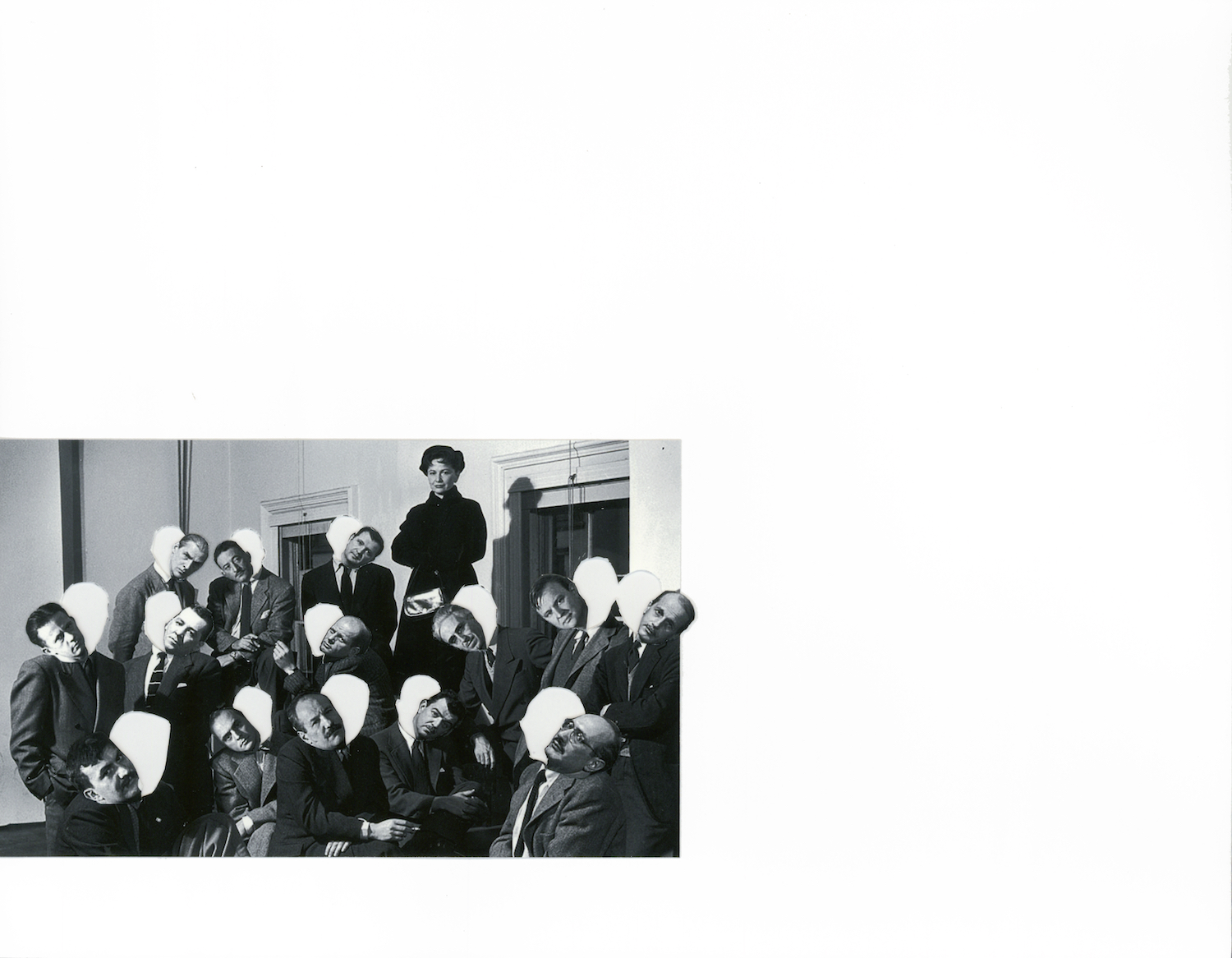 The impacts of facial recognition technology on personal security and privacy are explored in Stolle's series de-identified. Here, Stolle took portraits of 19th-century women and enhanced their facial features or physical attributes with collage, gouache, or ink to imply the extensive effort needed to avoid detection by this technology. The use of women in this piece highlights how this technology would be most dangerous for women. It would allow for more unchecked violence towards women by providing a means for predators to easily track down female targets. De-identified visually emphasizes the lack of consideration of women's experiences and the extremes that women must go through to protect themselves in a masculine society. This can be seen in the augmentation of these women's faces, some to the point that they are barely recognizable as human.
Grand Order of the Invisibles series addresses the exploitation of human labor and the lack of proper recognition for marginalized workers. Traditionally, jewelry and medals were given to the elite, symbolizing importance and authority over others. This perpetuates the glorification of an elite class and encourages the status hierarchy in place. Here, Stolle has created jewelry and decorations for these workers by collaging images representing typical lower-class jobs with medals, jewels, or ornate metalwork. Grand Order of the Invisibles criticizes the established social hierarchy while also giving proper recognition and acknowledgment to marginalized laborers.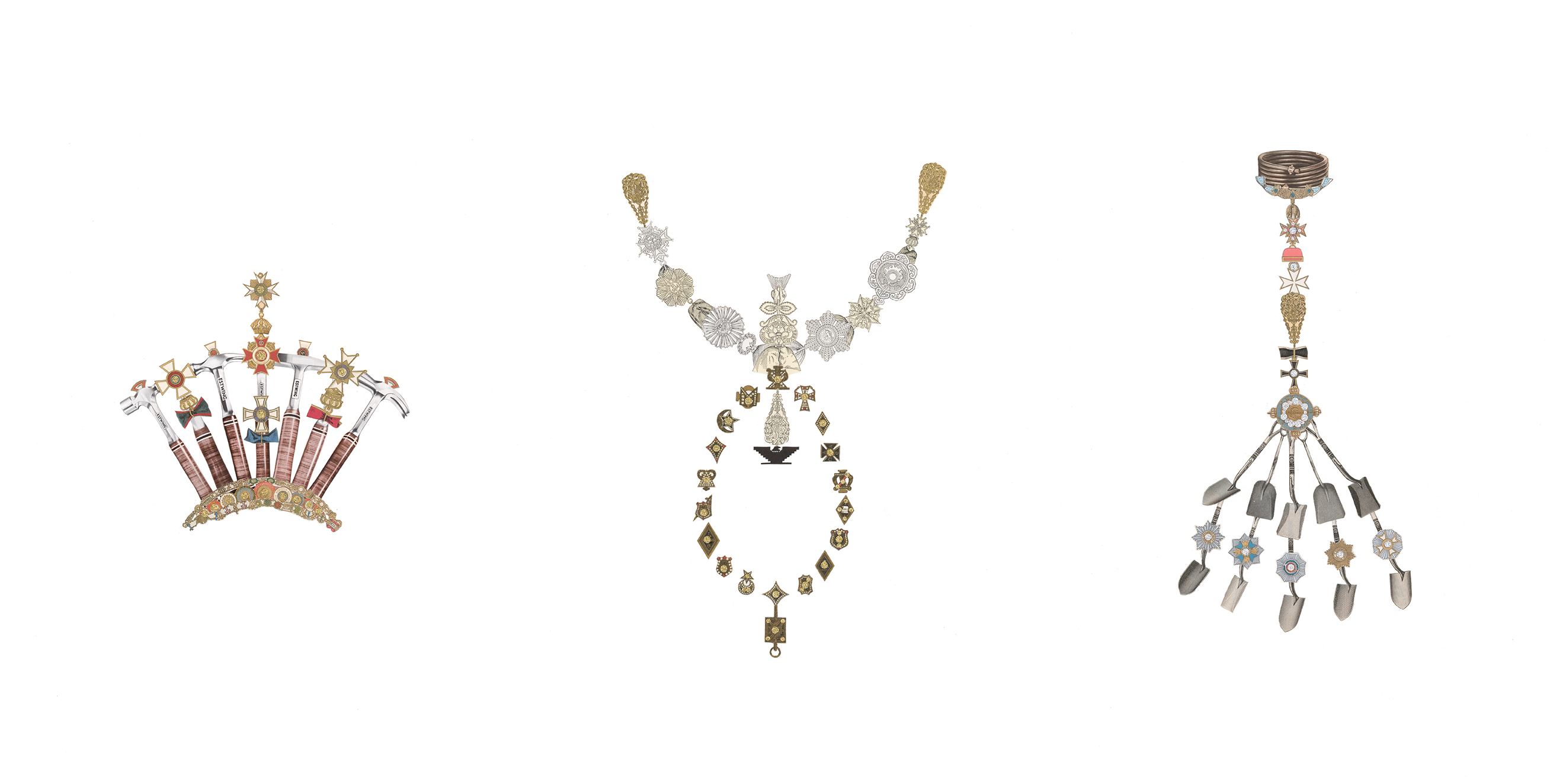 Even though these series by Stolle seem to differ the most from her typical environmental subject matter, they deal with major issues of exploitation and injustices towards under-represented groups. These are still issues that inadvertently affect the environment as humans are a natural resource. Kirsten Stolle utilizes her art to criticize social and environmental issues in the hope to bring attention to these problems and encourage future change.