Kukuli Velarde's CORPUS is comprised of ceramic and fabric works that encourage reflection on the meaning of survival in the face of colonialism. Fifteen ceramic sculptures, each with matching tapestries, are presented in a symbolic representation of the annual Corpus Christi festival in Cusco, Perú. The sculptures reference indigenous pre-Columbian forms and iconographies in a visual representation of syncretic aesthetic, cultural, and religious traditions. In this blog post, our summer intern Matty shares specific examples of this visual blend.
---
Kukuli Velarde's CORPUS series represents the artist's reimagining of Corpus Christi, a Catholic procession in Cusco, Perú. Velarde merges pre-Columbian forms with European Catholic iconography to emphasize Spanish colonialism's impact on indigenous identity. Despite colonialism's efforts to exterminate indigenous cultures and religions, they have been able to survive by adapting and hiding within Catholicism. In Velarde's interpretation, these forms and iconographies can be obvious or subtle, with closer inspection of each clay vessel revealing the blending of these distinct cultures. Velarde takes the opportunity to give indigenous forms the spotlight and show their resilience after all this time.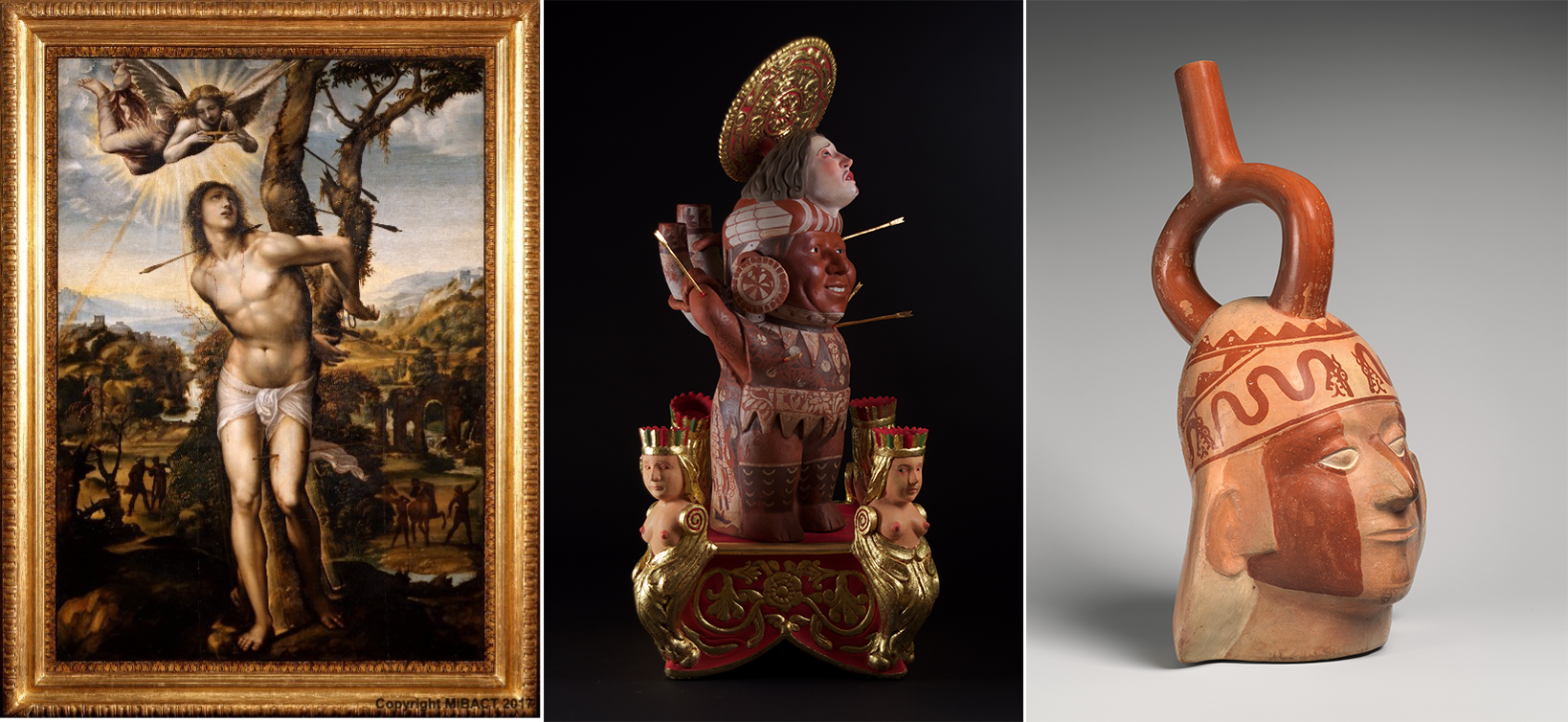 (Giovanni Antonio Bazzi Sodoma, St. Sebastian, 1525 | Kukuli Velarde, San Sebastián, 2012 | Portrait Head bottle from the Moche culture, 5th–6th century)
Velarde keeps some elements of Corpus Christi in the corresponding names of the effigies, displaying the sculptures as if they are in a procession, and commissioning authentic handmade banners. Her use of indigenous forms truly shines in the intricately painted patterns, the costumes and figures, and the expressive faces and body language. While the artist's intention is to highlight pre-Columbian culture, she also utilizes Catholic imagery to show their merge with Catholicism for survival. This unification of cultures can be seen in Velarde's representation of San Sebastián, pictured above. In this sculpture, traditional Catholic elements are incorporated and attached to the indigenous figure. Catholic imagery conventionally depicts San Sebastián tied to a tree, shot with arrows, and in pain. Velarde keeps these references by tying the indigenous character to a tree, putting arrows through him, and attaching San Sebastián's head, frozen in a pained expression, to his own head. There is an obvious juxtaposition between the iconography of the two figures, but this sculpture represents how they have merged into one entity over time–experiencing the same pain and religious stories.

(Standing Female Figure from the Chancay culture, 1200–1450 | Kukuli Velarde, San José y El Niño, 2017 | Bartolomé Esteban Murillo, Saint Joseph and the Christ Child, 1670-75)
Other sculptures in the series take a more transparent approach and emphasize that these Catholic effigies are merely masks for the indigenous forms hiding under them. Velarde was thorough in her representation of indigenous cultures, taking inspiration for the ceramics from various pre-Columbian cultures for each sculpture. One of the sculptures that does this is San José y El Niño, pictured above. Here, Velarde replicates the father-son bond of Joseph (San José) and Jesus (Niño) in the Catholic effigy by depicting two indigenous figures playing with puppets together. However, the puppets are actually Catholic versions of themselves. The design of this piece was inspired by ceramics from the Chancay culture which typically have black and tan geometric designs and figures with short bodies and square heads. This sculpture demonstrates how pre-Columbian forms masked themselves within Catholic effigies, but it also shows the real entities in control of the local religion and culture.
In CORPUS, Kukuli Velarde utilizes indigenous ceramic forms and Catholic iconography in her sculptures to emphasize the survival of indigenous entities via syncretism in contemporary Peruvian culture. Velarde's series focuses on representing the indigenous forms and aesthetics in an effort to reclaim indigenous identity in South America.