We Still Live Here [Film Screening]
Friday, March 2, 2012
8:00PM
Recital Hall, Simons Center for the Arts, 54 St. Philip Street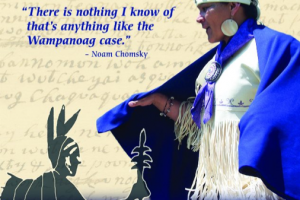 We Still Live Here, a documentary by award-winning filmmaker Anne Makepeace, tells the unprecedented story of the return of the Wampanoag language, a language that was silenced for more than a century. At the heart of the film is an engaging, passionate, often funny, always entertaining 'character,' Jessie Little Doe Baird. Indomitable, droll, resolute, earthy, brilliant, and humble, she is a marvel to watch as she finds her way from the tiny Indian enclave of Mashpee, Massachusetts, to becoming a celebrated linguist honored with a MacArthur 'genius' award in 2010 for her unprecedented work in bringing her own Wampanoag language back home.
The Wampanoag Indians live mainly on Cape Cod and Martha's Vineyard. Their ancestors ensured the survival of the first English settlers in America, and lived to regret it. Celebrated every Thanksgiving as "the Indians" who saved the Pilgrims from starvation, and then largely forgotten, the Wampanoag are now saying loud and clear, in their Native tongue, "Âs nutayuneân," – "We still live here."
Special thank you to our Southern Circuit funding partners the NEA, South Arts, The Academy of Motion Picture Arts and Sciences and the Jane Smith turner Foundation!
Q & A following with Anne Makepeace, Writer/Director
Recital Hall, Simons Center for the Arts, 54 St. Philip Street.
We Still Live Here [Film Screening]
Friday, March 2, 2012
8:00PM
Recital Hall, Simons Center for the Arts, 54 St. Philip Street