Sahkanaga [FILM SCREENING]
Friday, April 6, 2012
8:00PM
Recital Hall, Simons Center For The Arts, 54 St. Philip Street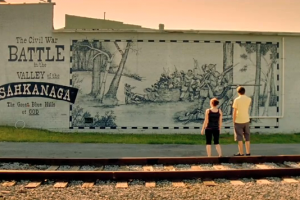 In the winter of 2002, over 300 bodies were discovered strewn about the property of the Tri-State Crematory in Noble, GA, in various stages of decay. Sahkanaga imagines this event from the perspective of a teenager who discovers the first body. Filmed on location in Walker County, GA, with a cast of non-professional actors, some of whom had direct connections to the real-life scandal, Sahkanaga observes a tight-knit community on the brink of a terrible tragedy and their efforts to make sense of the unknowable.
Special thank you to our Southern Circuit funding partners the NEA, South Arts, The Academy of Motion Picture Arts and Sciences and the Jane Smith turner Foundation!
Q & A following with John-Henry Summerour, Writer/Director/Producer
Recital Hall, Simons Center for the Arts, 54 St. Philip Street.
Sahkanaga [FILM SCREENING]
Friday, April 6, 2012
8:00PM
Recital Hall, Simons Center For The Arts, 54 St. Philip Street