NY Export: Opus Jazz [FILM SCREENING]
Friday, February 3, 2012
8:00 PM
recital hall, simons center for the arts, 54 st. philip street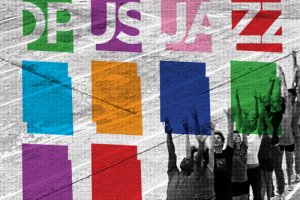 In 1958, Jerome Robbins' "ballet in sneakers," NY Export: Opus Jazz, became a smash hit when it was broadcast on The Ed Sullivan Show and toured around the world. Set to an evocative jazz score by Robert Prince and abstract urban backdrops by Ben Shahn, the dance told the story of disaffected urban youth through movement that blended ballet, jazz and ballroom dancing with Latin, African and American rhythms to create a powerfully expressive, sexy, and contemporary style.
Now, the work comes full circle in a vibrant new scripted film adaptation, conceived by New York City Ballet soloists Ellen Bar and Sean Suozzi, and shot on location around New York CityShot on anamorphic 35mm film, this on-location adaptation utilizes New York City locations like the pre-renovation High Line, McCarren Pool, Coney Island, Red Hook, and Carroll Gardens as backdrops for the five very different movements of the ballet. Scripted interludes between the dance scenes draw the audience further into the lives of the young, restless characters, all played by dancers from the New York City Ballet.
The stylized cinematography captures the majestic landscape of New York City as well the subtle beauty, energy, and sensuality of the dance piece. The resulting film is a unique and compelling 46-minute abstract narrative that highlights the form, structure and energy of the dance, while embodying the raw emotional experience of urban youth. This feature length film premiered at the 2010 South by Southwest Film Festival, where it won the Emerging Visions Audience Award, and had its broadcast premiere March 24 on PBS' Great Performances. "Acting out rage and delight through Robbins' carefully cultivated steps, the cast demonstrated the pent-up emotions of a new generation," raves The New York Times of this film.
Special thank you to our Southern Circuit funding partners the NEA, South Arts, The Academy of Motion Picture Arts and Sciences, and the Jane Smith turner Foundation!
Q & A following with Ellen Bar, Creator/Executive Producer
NY Export: Opus Jazz [FILM SCREENING]
Friday, February 3, 2012
8:00 PM
recital hall, simons center for the arts, 54 st. philip street