Bending Sticks: [FILM SCREENING + Q&A]
Tuesday, September 10, 2013
7:00PM
RECITAL HALL, SIMONS CENTER FOR THE ARTS, 54 ST. PHILIP STREET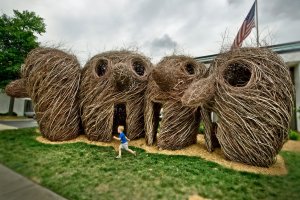 Free, Rated G
Q & A with the filmmaker and a reception will follow the film!
Synopsis: The feature length documentary Bending Sticks celebrates the twenty-five year career of the internationally renowned environmental artist Patrick Dougherty. He has created hundreds of monumental site-specific sculptures around the world from saplings gathered from the installations' surrounding area. The film follows the artist and his collaborators during a year of stickwork and reveals Dougherty's process, personal story and inspirations.
The heart of the film is Dougherty's creation of five commissions in different locations – inside the new wing of the NC Museum of Art; Main Street in Rock Hill, SC; a private home in Chapel Hill, NC; the Bascom Art Center in the mountains of NC; and the gardens of Dumbarton Oaks in Washington, DC. At each location, viewers see how Dougherty and his many helpers transform piles of sticks into energetic lines and exuberant forms. Dougherty's projects invite collaboration and engage communities in the making and viewing of his very public artworks.
Bending Sticks explores how the artist's childhood spent rambling through the woods and building forts and hideouts with his four siblings fueled his career and nurtured the prolific, insightful artist he is today.
Bending Sticks: [FILM SCREENING + Q&A]
Tuesday, September 10, 2013
7:00PM
RECITAL HALL, SIMONS CENTER FOR THE ARTS, 54 ST. PHILIP STREET