HOW TO MAKE MOVIES AT HOME [FILM SCREENING + Q&A]
Thursday, September 19, 2013
7:00PM
Recital Hall, Simons Center For The Arts, 54 St. Philip Street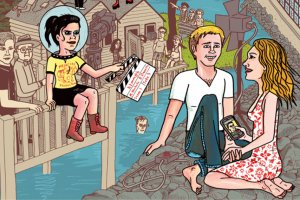 Free, Rated PG-13
Co-sponsored by the College of Charleston's First-Year Experience program
Q & A with the filmmaker and a reception sponsored by Brown's Court Bakery will follow the film!
Synopsis: Filmmaker Morgan Nichols and his friends have been making films in their backyards since they were kids. Now that he has graduated from film school and formed a production company, Hillport Maine Productions, Nichols created How to Make Movies at Home to teach the world about D.I.Y. film. Hillport Maine Productions was founded on the belief that authentic, community-based cinema is more delicious and nutritious than every glossy romcom, sequel, reboot, and remake combined.
How to Make Movies at Home is a scripted, full-length film set in the fictional town of Hillport, Maine. The storyline follows a young woman named Jonah and her band of rock & roll filmmakers. The group comes face to face with a Hollywood production team that not only wants to film a cookie cutter television show in their small town, but also put a stop to all other filmmaking activities.
Between the humor and drama, there are actual simple lessons explaining all the basic, yet essential, filmcraft lessons that Nichols learned in film school. His goal is for everyone who sees this movie will come out ready to make their own movie.
HOW TO MAKE MOVIES AT HOME [FILM SCREENING + Q&A]
Thursday, September 19, 2013
7:00PM
Recital Hall, Simons Center For The Arts, 54 St. Philip Street