Jan. 23 - Feb. 27, 2009
Stacy Pearsall
WAR ON TERROR: INSIDE / OUT
Stacy Pearsall began working as an Air Force photographer at the age of 17. Now retired from military service after ten years, she works worldwide as a freelance photographer, and is the acting Director of the Charleston Center for Photography. Pearsall studied at Syracuse University where she received the Associated Collegiate Press Award. Since that time, her work has appeared in the New York Times, Time, Newsweek, Pink, Popular Photography, GQ magazine's "This is Our War," CNN, and the Oscar-nominated PBS program Operation Home Coming.
Pearsall is one of only two women to have won the National Press Photographers Association (NPPA) Military Photographer of the Year Competition and the only woman to have won it twice. In addition, she is also an NPPA Women in Photojournalism and Atlanta Photojournalism Contest award winner.
Her images are currently exhibited in Los Angeles and Charleston, and her freelance clients include Southparc Communications, DSM Dyneema, Sports Illustrated, South Carolina State Museum, Medical University of South Carolina, Army Recruiting, and Department of Defense.
Early on in my life, I had trouble expressing my emotions in words. I found that I could use a camera as a vessel of expression. From then on, I harnessed my emotions and strove to make each image an evocation of what I saw and felt. I believe it is that ability, which allows me to be a successful storyteller. For the past twelve years, I have witnessed the depredations of war and immeasurable kindness of humanity. I cannot express in words what I have seen and lived to those who have not been privy to it. I have survived weeklong sieges, twelve-hour gun battles, three improvised explosive devices, and two helicopter crashes. I have experienced my own suffering and loss. However, I know that my images of these acts have and will bring about change. It is the confidence I have in myself, in photojournalism and in humanity, which compels me to continue my work. I have faith that people will make the right decisions when they are presented with the facts. So, I will continue to use my vessel of expression in the hopes that I can do my part in bringing about change for the future.
Stacy Pearsall
WAR ON TERROR: INSIDE / OUT
Jan. 23 - Feb. 27, 2009
Opening Reception
Fri. Jan. 23rd, 5pm – 7pm
Artist Lectures
Room 309, Simons Center for the Arts
Fri. Jan. 23rd, Sims at 4pm; Pearsall at 4:30pm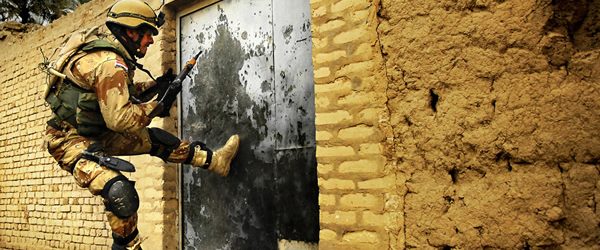 ON VIEW WITH