SOUP TO NUTS WITH JOE WALTERS | April 18, 2012
Wednesday, April 18, 2012
The Halsey Institute, 161 Calhoun Street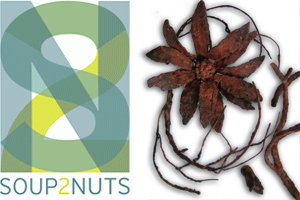 A Charleston resident, Joe Walters is widely shown throughout the Southeast, Florida and New York. He has made a name for himself in the art world with his sculpture as well as his two-dimensional works. Joe Walters received his MFA in sculpture from East Carolina University. His work has been exhibited at the Mint Museum of Art, The Weatherspoon Art Museum, Jacksonville Museum of Modern Art and the Southeastern Center for Contemporary Art. He is a recipient of the Southern Arts Federation Arts Regional Fellowship. Works by Joe Walters are in the permanent collections of Kemper Museum of Contemporary Art, SAS Institute Inc., Emory University, and the University of Florida.
Walters creates his tea drawings in a process that uses uncommon material such as tea, bleach and polyurethane to capture a specific impression. This process plays an integral role in Joe Walters' work. A drawing is made where Walters creates a template by puncturing holes, encompassing the drawing. Tea staining creates the appearance of being aged. To preserve this appearance of "being aged" or "passing of time," he permeates the surface with polyurethane, thus fossilizing, or freezing its status. The procedure is extremely physical yet vital, taking advantage of incidents, character of material, and happenings, either by nature or man. Evidence of process and accidental marks are seen in Walters' work on paper, creating a tension between "control and happenstance".
Aesthetically, the work has an ancient quality, an unearthed characteristic due likely to Walters' early interest in archaeology. The encrusted appearance possesses an integrity and elegance that come with age. In this particular group of work, Waterline, the series is based upon the marsh on which he currently resides near Folly Beach, SC. However, the work does not replicate nature, but interprets and references the marsh.
SOUP TO NUTS WITH JOE WALTERS | April 18, 2012
Wednesday, April 18, 2012
The Halsey Institute, 161 Calhoun Street