Opening Reception | Return to the Sea: Saltworks by Motoi Yamamoto
Thursday, May 24, 2012
The Halsey Institute, 161 Calhoun Street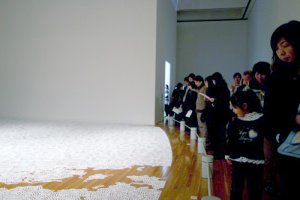 The Halsey Institute of Contemporary Art has organized a major traveling exhibition of new work by contemporary Japanese artist Motoi Yamamoto. The exhibition will premiere in Charleston May 24-July 7, 2012, as a featured presentation of the Spoleto Festival USA. Return to the Sea: Saltworks by Motoi Yamamoto will travel nationally after its inaugural presentation, including stops in Los Angeles, CA, Charlotte, NC, and Monterey, California. The centerpiece of the exhibition will be a site-specific installation created entirely out of salt by the artist during his 10-day residency at the Halsey Institute. The opening reception on Thursday May 24, from 5pm to 7pm will be open to the public and include complimentary refreshments and light hors d'oeuvres, along with traditional Japanese drumming by Taiko Charleston.
Curated by Mark Sloan, director and senior curator of the Halsey Institute, the exhibition will also feature a series of recent drawings, photography, sketchbooks, a video about the artist, and a 170-page color catalogue documenting fourteen years of the artist's saltworks around the world. The catalogue includes essays by Sloan and Mark Kurlansky, author of the New York Times best seller, Salt: A World History. The video, produced by Sloan and Emmy award-winning videographer John Reynolds, will include interviews with Yamamoto at his studio in Kanazawa, Japan, insight into his creative process, still images and time-lapse videos of many of his previous installations, and an overview of the fascinating history of salt in Japanese culture.
Motoi Yamamoto is an internationally renowned artist who calls his native Japan home. Motoi was born in Onomichi, Hiroshima in 1966 and received his BA from Kanazawa College of Art in 1995. He has exhibited his award-winning creations around the globe in such cities as Athens, Cologne, Jerusalem, Mexico City, Seoul, Tokyo, and Toulouse. He was awarded the Philip Morris Art Award in 2002 as well as the Pollock-Krasner Foundation Grant in 2003. Although he participated in a group exhibition that same year at New York's P.S. 1, his work has yet to be widely seen in the United States.
Yamamoto says, "Drawing a labyrinth with salt is like following a trace of my memory. Memories seem to change and vanish as time goes by; however, what I seek is to capture a frozen moment that cannot be attained through pictures or writings. What I look for at the end of the act of drawing could be a feeling of touching a precious memory."
Opening Reception | Return to the Sea: Saltworks by Motoi Yamamoto
Thursday, May 24, 2012
The Halsey Institute, 161 Calhoun Street