MEMBER MEET-UP | Aurora Robson
Tuesday, August 25, 2020
11:00 AM
Via Zoom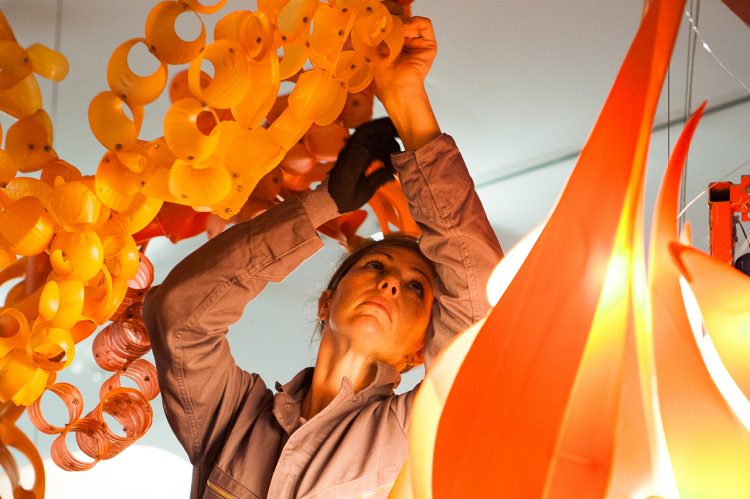 Our Member Meet-ups take place at least once per month and offer behind-the-scenes virtual tours, virtual artist talks, and meet-and-greet events with the curators. Don't miss out on this fun opportunity to celebrate the Halsey Institute community and engage with contemporary art in these singular times. Become a member here!
To attend, please RSVP to Lizz Biswell at BiswellL@cofc.edu
** Please note: This event was originally scheduled for Friday, August 21, but has now been shifted to Tuesday, August 25. See you then!
---
Join us for a Member Meet-up with Aurora Robson, who was featured in fall 2017's SEA CHANGE project focused on ocean plastics with her site-specific installation The Tide is High. She will give a brief overview of her work followed by a Q&A with the Halsey Institute's director of exhibitions and public programs, Bryan Granger. This event is open to all levels of membership.
About the artist:
New York-based sculptor Aurora Robson. As an artist who explores ecological issues, she creates lively and intricate sculptures from plastic debris, transforming quotidian waste into aesthetic objects of beauty and reflection. Under her meticulous manipulation, the plastic materials she uses in her works take on an organic quality, thus connecting back to nature. Many of her works take on forms that resemble the otherworldly organisms that exist on ocean floors; in this way, her work is further associated with the sea, which is often the ultimate repository for plastic waste. Her works reference a legacy of using found objects as media for sculpture, and by transforming everyday trash into works of art, her sculpture forces viewers to consider their own relationship with plastic materials and waste.
MEMBER MEET-UP | Aurora Robson
Tuesday, August 25, 2020
11:00 AM
Via Zoom