Film – "Mars"
Friday, October 7, 2011
8:00PM
Recital Hall, Simons Center for the Arts, 54 St. Philip Street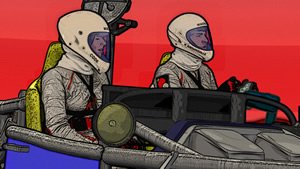 A new space race is born between NASA and the European Space Agency when Charlie Brownsville, Hank Morrison, and Dr. Casey Cook compete against an artificially intelligent robot to find out what's up there on the red planet. MARS follows these three astronauts on the first manned mission to our galactic neighbor. On the way they experience life-threatening accidents, self-doubts, obnoxious reporters, and the boredom of extended space travel.
This romantic comedy is told in the playful style of a graphic novel-using a unique animation process that director Geoff Marslett developed specifically for the film. Underneath the silliness, MARS is also an exploration of exploration. Why do we want to know what is out there? How do we react to what we find? Is it really that important? And where does love fit into the whole thing?
While our brave astronauts are out there taming the new frontier, their voyage is reflected, and sometimes distorted, through the eyes of the reporters, scientists, and politicians back home. Once they reach the "new world" life and love flourish in the most unexpected places.
Special thank you to our Southern Circuit funding partners the NEA, South Arts, The Academy of Motion Picture Arts and Sciences and the Jane Smith turner Foundation!
Q&A following with the Director Geoff Marslett.
Recital Hall, Simons Center for the Arts, 54 St. Philip Street.
Film – "Mars"
Friday, October 7, 2011
8:00PM
Recital Hall, Simons Center for the Arts, 54 St. Philip Street