Surviving Hitler: A Love Story [FILM]
Friday, September 9, 2011
8:00PM
Recital Hall, Simons Center for the Arts, 54 St. Philip Street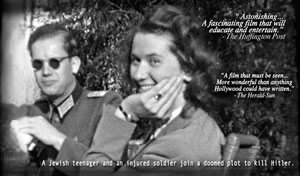 As a teenager in Nazi Germany, Jutta is shocked to discover she is Jewish. She joins the German resistance and meets Helmuth, an injured soldier. The two become sweethearts and soon co-conspirators in the final plot to assassinate Hitler.
This would sound like a pitch for a Hollywood blockbuster were it not all true. Surviving Hitler: A Love Story is in fact a harrowing tale of war, resistance, and survival. At the center of the documentary is a love story for the ages, with riveting narration by Jutta herself, original 8mm footage (shot by Helmuth) and, miraculously, a happy ending.
Special thank you to our Southern Circuit funding partners the NEA, South Arts, The Academy of Motion Picture Arts and Sciences and the Jane Smith turner Foundation!
Q & A following with the Director John Keith Wasson
Recital Hall, Simons Center for the Arts, 54 St. Philip Street.
Surviving Hitler: A Love Story [FILM]
Friday, September 9, 2011
8:00PM
Recital Hall, Simons Center for the Arts, 54 St. Philip Street