EXHIBITION WALKTHROUGH WITH GUEST CURATOR TOM PATTERSON | EXIT / ALIVE
Saturday, January 21, 2017
Halsey Institute Galleries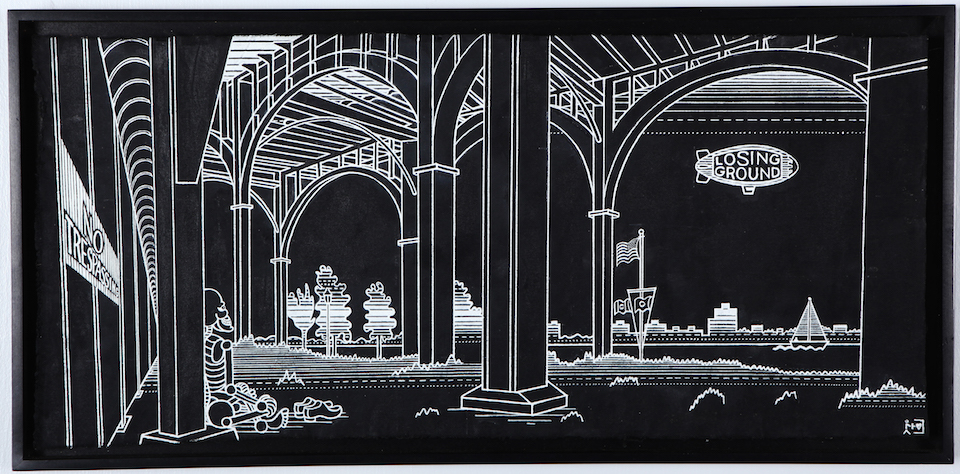 Join us on Saturday, January 21 at 2:00pm in the Halsey Institute galleries for a walkthrough of the new exhibition EXIT/ALIVE: The Art of Anthony Dominguez, led by guest curator Tom Patterson.
EXIT / ALIVE: The Art of Anthony Dominguez gathers a substantial body of art produced by Anthony Dominguez over 20 years leading up to his untimely death in 2014. Curated by Guest Curator Tom Patterson and conceived as a definitive overview, the exhibition brings together a representative sampling of works by this philosophically uncompromising, intentionally homeless artist, an idiosyncratic figure on the margins of society and the art world.
Around the beginning of 1993 Anthony Dominguez made a carefully considered decision to walk away from his day job and abandon his apartment in Lower Manhattan in exchange for a new life out in the open, seeking free sources of food and improvising compact, makeshift shelters when he needed sleep or protection from harsh weather.
Discarding the artwork he had previously made and all of his other worldly possessions, he abandoned the trappings of employment and domestic life in exchange for the streets, sidewalks, parks, derelict buildings, and subterranean tunnels of New York. He was in his early thirties at the time. The only thing he didn't give up in this radical lifestyle change was his lifelong inclination to make images.
Tom Patterson has been writing about art and curating exhibitions since the early 1980s. He is the author of St. EOM in The Land of Pasaquan (Jargon Society, 1987), Howard Finster: Stranger from Another World (Abbeville Press, 1989) and Contemporary Folk Art: Treasures from the Smithsonian American Art Museum (Watson-Guptill Publications, 2001) His writings have appeared in magazines including afterimage, American Craft, Aperture, ARTnews, Art Papers,BOMB and New Art Examiner. A former U.S. editor of Raw Vision, the London-based international journal of outsider art, he currently serves as a U.S. editorial contributor to that magazine. As a curator he has organized shows for institutions including the American Visionary Art Museum, the High Museum of Art, the Southeastern Center for Contemporary Art, the Terra Museum of American Art and the Center on Contemporary Art. He lives in Winston-Salem, North Carolina.
EXHIBITION WALKTHROUGH WITH GUEST CURATOR TOM PATTERSON | EXIT / ALIVE
Saturday, January 21, 2017
Halsey Institute Galleries