Artist Lecture – Michael Kenna
Wednesday, November 2, 2011
Recital Hall, Simons Center for the Arts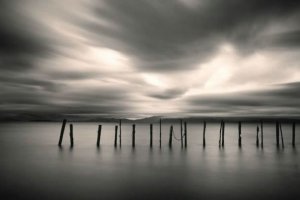 Widely considered to be one of the foremost landscape photographers of his generation, Michael Kenna has been looking at our world in ways quite out of the ordinary for over thirty-five years. His mysterious photographs, often made at dawn or in the dark hours of night, concentrate primarily on the interaction between the natural landscape and human-made structures. Kenna is both a diurnal and nocturnal photographer, fascinated by times of day when light is at its most pliant. With nighttime exposures of up to ten hours, his photographs often record details that the human eye is not able to perceive.
Kenna is particularly famous for the intimate scale of his photography. He works in a traditional, non-digital photographic medium and his intimate, exquisitely hand crafted black and white prints reflect a sense of refinement, respect for history, and thorough originality. Kenna's photographs have been shown in over six hundred gallery and museum exhibitions throughout the world, and are included in such permanent collections as The Bibliotheque Nationale, Paris; The Metropolitan Museum of Photography, Tokyo; The National Gallery, Washington, D.C.; The Shanghai Art Museum; and The Victoria and Albert Museum, London.
Born in Widnes, England in 1953 and currently living in Seattle, U.S.A., Kenna photographs throughout the world. His earlier work is broadly European based but during the last ten years he has been concentrating on subject areas in China, Japan and Korea. In this slide presentation Kenna will show a broad selection of his work and will describe the experiences and influences of his photographic explorations.
Over fifty monographs and exhibition catalogs have been published on Kenna's work, including; Michael Kenna – A Twenty Year Retrospective (Treville, 1994 and Nazraeli, 2000); Impossible to Forget (Marval and Nazraeli, 2001); Japan (Nazraeli and Treville, 2003); Michael Kenna – A Retrospective (BnF, 2009); Immagini del Settimo Giorno(Skira, 2010) and Huangshan (Nazraeli, 2010).
This lecture is produced in partnership with Rebekah Jacob Gallery and in conjunction with Quiet Places: Italy, France, China, and Japan at RJG, November 1 – Dec 2011.
Artist Lecture – Michael Kenna
Wednesday, November 2, 2011
Recital Hall, Simons Center for the Arts