World's Largest [FILM]
Friday, November 4, 2011
8:00PM
Recital Hall, Simons Center for the Arts, 54 St. Philip Street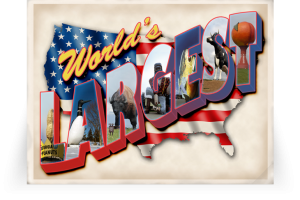 Desperate for tourism, hundreds of small towns across the U.S.A. claim the "world's largest" something from 15-foot fiberglass strawberries to 40-foot concrete pheasants. Odd, funny and sometimes beautiful, the statues stand as testaments to the uniqueness and importance – the largeness – that all people feel, and need to feel, about their communities and their own existence.
World's Largest, a feature documentary, visits 58 such sites and profiles Soap Lake, Washington's four-year struggle to build the World's Largest Lava Lamp. By documenting these roadside attractions, World's Largest captures the changing landscape of small-town America.
Special thank you to our Southern Circuit funding partners the NEA, South Arts, The Academy of Motion Picture Arts and Sciences and the Jane Smith turner Foundation!
Q&A following with the filmmaker Amy Elliott
World's Largest [FILM]
Friday, November 4, 2011
8:00PM
Recital Hall, Simons Center for the Arts, 54 St. Philip Street