Workshop / Performance
Wednesday, January 28, 2009
Halsey Gallery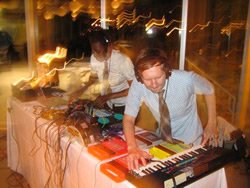 Beatrix*JAR Circuit Building workshop and performance
Presented by New Music Collective
Different from any workshop you may have attended in the past – Circuit Bending Workshops open up the world of sound through experimentation and play. Using recycled keyboards, drum machines and children's toys students make unique sonic discoveries unleashing hidden sounds the manufacturer never intended. Circuit bending requires very little technical know-how to get started – giving everyone the opportunity to experience making electronic music, young or old.
6-7pm -Circuit Bending Workshop – $20/$10 student (includes concert admission)
8pm – performance – $10/$5 student
Under 18 FREE all night
Bring your own toy to hack!
The workshop is limited to 25 people so please (you must) RSVP toinfo@newmusiccollective.org to reserve a spot at the workshop.
Workshop / Performance
Wednesday, January 28, 2009
Halsey Gallery