Opening Reception – Hamid Rahmanian & Tanja Softić
Friday, October 21, 2011
Halsey Institute of Contemporary Art | 161 Calhoun St.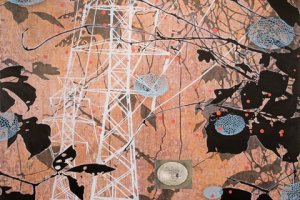 Two artists, working through different media, present visualizations of their experience as immigrants. Throughout the exhibition, guided group tours will be offered through the Halsey Institute's Looking to See program. All events are free with the public encouraged to attend.
Hamid Rahmanian The Multiverse exhibition is an excerpt from the graphic novel The Magnificent Book of M. An allegorical tale, The Magnificent Book of M intertwines reality, dream and fantasy to present to the reader a dissection of what it feels like to be an immigrant. The journey, all actual events the artist has experienced, is a global story that defies countries and borders. It's about the notion of home and belonging, losing oneself in the process of life and rediscovering him once the dust has settled. For the Multiverse exhibition at the Halsey Institute, Rahmanian's story has been re-imagined to a gallery setting.
Hamid Rahmanian is a filmmaker and graphic artist. As a graphic artist for over two decades, he has received numerous achievement awards and his work has been exhibited in international competitions and publications. Over the past five years, Rahmanian has been commissioned to do work for both cultural organizations and commercial companies such as the United Nations, GQ Magazine, Pacifica Radio/Democracy Now and Aramex Shipping Company. In the last decade, his narrative and documentary films have premiered at festivals such as Sundance, Toronto, Tribeca, and Venice, and have been televised on international networks, including PBS, Sundance Channel, IFC, Channel 4, BBC, DR2, and Al Jazeera. They have gained international recognition for their socially conscious storylines. His films have been used in the non-governmental sector to combat negative stereotypes about Iranians, to promote anti-capital punishment laws in the US, and to raise funds and awareness for the plights of disadvantaged women and girls around the world. He is currently illustrating a new edition of the Persian poet Ferdowsi's Shahnameh, to be published by Quantuck Lane, an imprint of Norton & Co.
Tanja Softić The Migrant Universe series acts as a visual poem about identity and the worldview of an immigrant. Tanja Softić's prints, drawings, and paintings combine images of natural and man-made structures with drawings based on appropriated visual material: medical and botanical illustrations, maps and charts, manuscript illuminations, and comic art. Her work addresses concepts of cultural hybridity, chaos, and memory.
Tanja Softić is a recipient of the Pollock-Krasner Grant, National Endowment for the Arts/Southern Arts Federation Visual Artist Fellowship, and Soros Foundation-Open Society Institute Exhibition Support Grant. Her work is included in numerous collections in the United States and abroad, among them the New York Public Library, Library of Congress Print Department, and New South Wales Gallery of Art in Sydney, Australia. She participated in the 12th International Print Triennial in Cracow, Poland, and won a first prize at the 5th Kochi International Triennial Exhibition of Prints, Ino-cho Paper Museum, in Kochi, Japan, in 2002. Recently, she completed print projects at Flying Horse Press, Tamarind Institute, and Anderson Ranch's Patton Printshop. She is professor of art and chair of the department of art and art history at the University of Richmond.
Opening Reception – Hamid Rahmanian & Tanja Softić
Friday, October 21, 2011
Halsey Institute of Contemporary Art | 161 Calhoun St.