MEET THE MAKER | Carla Gannis
Wednesday, April 6, 2022
5:30 - 7:00 PM
Halsey Institute galleries + Zoom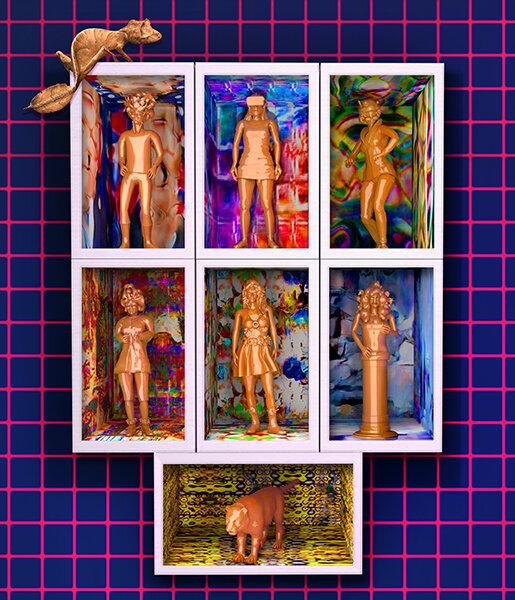 Join us for the next Meet the Maker featuring upcoming artist Carla Gannis who will exhibit at the Halsey Institute in summer 2023. Meet the Makers are quarterly get-togethers for members at the Postmodernist level and above to meet an artist and learn about their creative process within an intimate setting. The Maker is often an upcoming or past exhibiting artist at the Halsey Institute. They will give a presentation describing their inspiration, passions, process, and, ultimately, final result. Members are asked to bring "a bottle of wine and an open mind."
This event will be presented both in-person and over Zoom. Help us to provide the best experience possible and RSVP to halseyRSVP@cofc.edu to reserve a space in the galleries or receive the Zoom link and passcode. Not a member yet? Not a problem! Find out more about the benefits of membership here.
We hope that all in-person event guests will join the Halsey Institute staff in wearing a face mask while in the galleries.
Please note: The Halsey Institute staff and the College of Charleston are monitoring local COVID case numbers and will make updates to event policies as necessary. Make sure to check this page often for up-to-date information regarding this event.
---
Carla Gannis is an interdisciplinary artist based in Brooklyn. She produces works that consider the uncanny complications between grounded and virtual reality, nature and artifice, science and science fiction in contemporary culture. Fascinated by digital semiotics, Gannis takes a horror vacui approach to her artistic practice, culling inspiration from networked communication, art and literary history, emerging technologies, and speculative design.
Images: event page top, Carla Gannis, Portraits of Landscape, 2019, animation. © Carla Gannis/Brainart. image right, Carla Gannis / C.A.R.L.A. G.A.N., wwwunderkammer [detail], 2020, Telematic Media Arts, installation still.
MEET THE MAKER | Carla Gannis
Wednesday, April 6, 2022
5:30 - 7:00 PM
Halsey Institute galleries + Zoom