GMO OMG [FILM SCREENING + Q&A]
Thursday, November 21, 2013
7:00PM
Recital Hall, Simons Center For The Arts, 54 St. Philip Street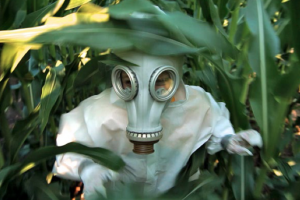 Free, Rated G
Co-sponsored by the College of Charleston's First-Year Experience program
Q & A with the filmmaker and a reception sponsored by Brown's Court Bakery will follow the film!
Synopsis: GMO OMG explores the systematic corporate takeover and potential loss of humanity's most precious and ancient inheritance: seeds. Director Jeremy Seifert investigates how loss of seed diversity and corresponding laboratory assisted genetic alteration of food affects his young children, the health of our planet, and freedom of choice everywhere. The story begins with his discovery of GMOs through learning of a symbolic act by poor Haitian farmers. In defiance, they burned a gift of 475 tons of hybrid corn and vegetable seeds from agro-business giant Monsanto shortly after the devastating earthquake of January 2010. Seifert includes interviews with Dennis Kucinich, Bill McKibben, farmers, and international scientists.
GMO OMG follows one family's struggle to live and eat without participating in an unhealthy, unjust, and destructive food system. In GMO OMG, the encroaching darkness of unknown health and environmental risks, chemical toxins, and food monopoly meets with the light of a growing global movement to take back what we have lost. Just in time for our Thanksgiving feasts, the documentary asks: Has the global food system been irrevocably hijacked?
GMO OMG [FILM SCREENING + Q&A]
Thursday, November 21, 2013
7:00PM
Recital Hall, Simons Center For The Arts, 54 St. Philip Street