Gallery Talk with Shepard Fairey
Saturday, May 24, 2014
Halsey Institute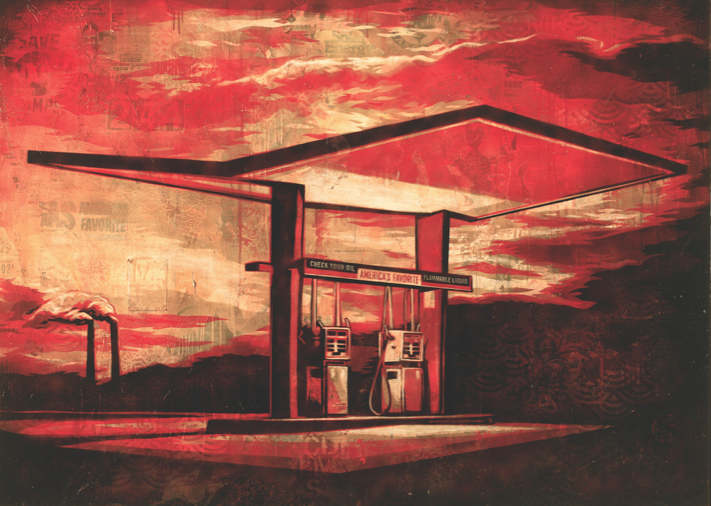 A gallery talk with exhibiting artist Shepard Fairey will be held within the Halsey Institute's galleries on Saturday, May 24, 2PM. The 100 in-gallery seats for the gallery talk have already been reserved. In addition to the seats in the gallery, we will simulcast his presentation in the Hill Exhibition Gallery, the large hallway outside the Halsey Institute's doors within the Cato Center for the Arts. To be added to the Waiting List for in-gallery seats, please click here.
The Halsey Institute celebrates its 30th Anniversary with The Insistent Image: Recurrent Motifs in the Art of Shepard Fairey and Jasper Johns. This exhibition pairs new work by Shepard Fairey and a survey of prints from 1982 to 2012 by Jasper Johns at Universal Limited Art Editions. The exhibition is curated by Mark Sloan, senior curator and director of the Halsey Institute.
For his first major exhibition in his hometown, the Los Angeles-based artist created an entire new body of work collectively entitled "Power & Glory". According to Fairey, the idea behind these works is the celebration and critique of Americana with an emphasis on the meanings of power. Staying true to his rebellious punk background, and the social and political critique in his work, the new pieces are full of "in your face" slogans and statements about power, security, protection and similar subjects. Known for his visual remix of logos, symbols, and imagery, the new paintings, sculptures, works on paper, and screen prints explore and analyze everything that is both good and bad about American lifestyle and culture. Along with exhibiting his works in the indoor space, Fairey will be creating a series of large-scale public murals in locations throughout downtown Charleston, visually and thematically related to the show.
Gallery Talk with Shepard Fairey
Saturday, May 24, 2014
Halsey Institute