ARTIST TALK AND GALLERY WALKTHROUGH | Tom Stanley: Scratching the Surface
Saturday, June 17, 2017
Halsey Institute Galleries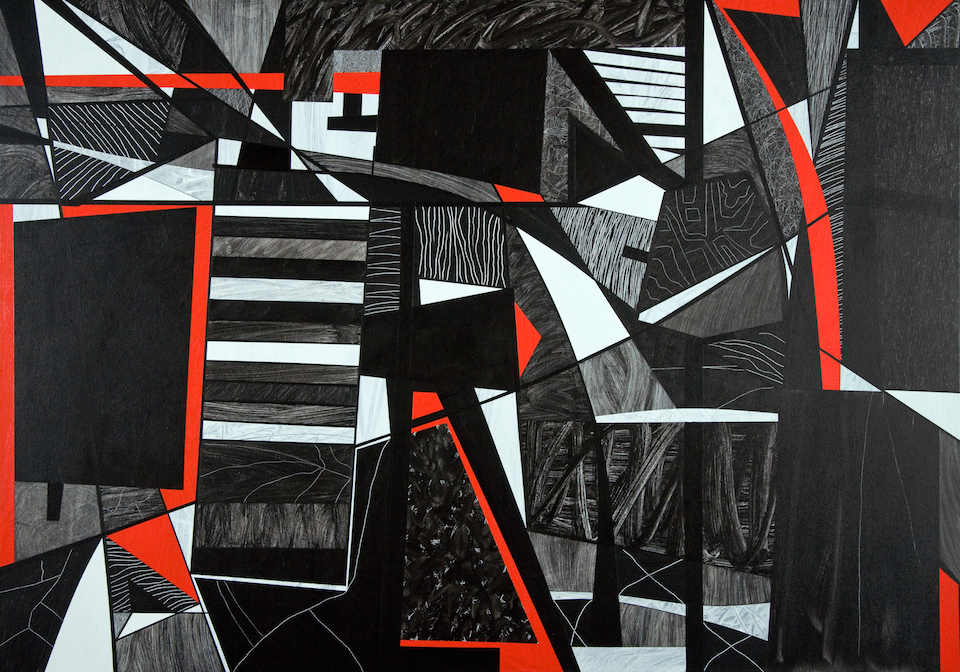 Join us on Saturday, June 17 at 2pm for an artist talk and gallery walkthrough with Tom Stanley for his exhibition at the Halsey Institute Scratching the Surface.
Over the past several decades, Tom Stanley has utilized sgraffito as a significant component of his abstract paintings. Popular in the Italian Renaissance of the 15th and 16th centuries, sgraffito refers to the practice of scratching a layer of paint to reveal a contrasting layer beneath it. In his geometric abstractions, the sgraffito adds an inherently expressive quality, creating a contrast between the frenzied scratching and his clinically precise lines and forms. His works also explore the history of painting techniques: beyond sgraffito, his works often contain drips of paint evoking Abstract Expressionism, and his expressive lines recall Surrealist automatic drawing.
Stanley's abstractions draw on the forms of the world around him, typically including items like boats, ladders, water towers, and houses. In his recent Vessels series, his canvases riff on the motif of a boat, often portraying one of more such vessels amidst a plane of harried lines and sgraffito. Such a series emphasize the duality contained within his paintings: expressive yet measured, formally-engaged yet conceptually-driven, abstract yet connected to reality.
ARTIST TALK AND GALLERY WALKTHROUGH | Tom Stanley: Scratching the Surface
Saturday, June 17, 2017
Halsey Institute Galleries