Artist Talk and Gallery Walk-through with Jiha Moon
Saturday, October 24, 2015
Room 309, Simons Center & the Halsey Institute galleries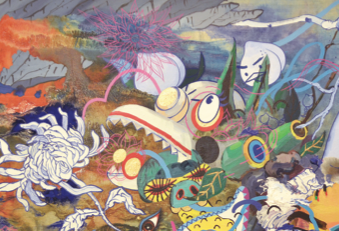 The Halsey Institute will present an artist talk and gallery walk-through with exhibiting artist Jiha Moon on Saturday, October 24. The event begins with a slide talk at 2pm in room 309 of the Simons Center for the Arts located at 54 St. Philip Street on the College of Charleston campus. We will then walk down the hall to view Moon's exhibition within the galleries.
Jiha Moon: Double Welcome, Most Everyone's Mad Here features new works by multi-media artist Jiha Moon (Korean, Born 1973). Based in Atlanta, Georgia, Moon harvests cultural elements native to Korea, Japan, and China and then unites them with Western elements to investigate the multi-faceted nature of our current global identity as influenced by popular culture, technology, racial perceptions, and folklore. Featuring over fifty works, Moon blurs the lines between Western and Eastern identified iconography such as the characters from the online game Angry Birds© and smart phone Emojis which float alongside Asian tigers and Indian gods, in compositions that appear both familiar and foreign simultaneously.
Born and raised in Daegu, Korea, Jiha Moon lives and works in Atlanta, Georgia. She received her Master of Fine Arts from the University of Iowa in Iowa City, Iowa and her Bachelor of Fine Arts from Korea University in Seoul, Korea. Her work is in the permanent collections of the Asia Society, New York City, New York; the High Museum of Art, Atlanta, Georgia; the Hirshhorn Museum and Sculpture Garden, Washington, DC; the Virginia Museum of Fine Arts, Richmond, Virginia; and the Hunter Museum of Art in Chattanooga, Tennessee. Her work has been the subject of numerous solo exhibitions at notable museums nationwide including at the Mint Museum of Art in Charlotte, North Carolina; the Cheekwood Botanical Garden and Museum of Art in Nashville, Tennessee; and the Weatherspoon Museum of Art, Greensboro, North Carolina. She has been the recipient of several residencies including Omi International Arts Center, Ghent, New York; the Headlands Center for the Arts, Sausalito, California; the Fabric Workshop and Museum, Philadelphia, Pennsylvania; and the MacDowell Colony, Peterborough, New Hampshire. In 2011, Moon was the recipient of a prestigious Joan Mitchell Foundation Painter and Sculpture grant. She is represented by Curator's Office in Washington, D.C., Saltworks Gallery in Atlanta, Georgia, and Ryan Lee Gallery in New York, New York.
Artist Talk and Gallery Walk-through with Jiha Moon
Saturday, October 24, 2015
Room 309, Simons Center & the Halsey Institute galleries