Juror's Lecture: Julie Heffernan
Saturday, March 17, 2012
Room 309, Simons Center for the Arts, 54 St. Philip Street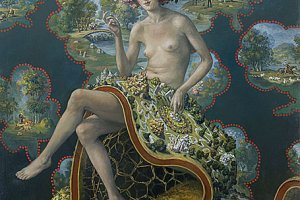 Each spring, current College of Charleston students are eligible to submit their recent work to the "Young Contemporaries" annual, giving them an opportunity to have their work chosen by a nationally prominent juror and exhibit in a professional gallery setting. To learn more about the submissions process, please click here.
For the 2012 Young Contemporaries exhibition, NY visiting artist Julie Heffernan has been chosen to select the works. Heffernan will give a lecture about her work on Saturday March 17 at 3pm in Simons Center, Room 309.
Julie Heffernan is an Associate Professor of Fine Arts at Montclair State University in Upper Montclair, New Jersey. She received her MFA in Painting and Printmaking at Yale School of Art and Architecture. Heffernan has been exhibiting her paintings actively throughout the world since 1988 and is represented by PPOW Gallery in New York City, Catharine Clark Gallery in San Francisco, CA, Mark Moore Gallery in LA, CA and Megumi Ogita Gallery in Tokyo, Japan. In 2010-11 she had solo exhibitions at PPOW Gallery in NYC, Megumi Ogita Gallery in Tokyo, Japan, and Catharine Clark Gallery in SF, CA. In 2009-11 Heffernan was invited to participate in 26 group shows including The 183rd Annual: An Invitational Exhibition of Contemporary American Art" at the National Academy Museum in NYC; "Old School". At Hauser and Wirth Gallery, London, England and Zwirner and Wirth Gallery in NYC; and "Arcimboldo-Artista Milanese tra Leonardo e Caravaggio," at Palazzo Reale in Milan, Italy
Heffernan was invited to be a member of the National Academy of Art in 2011 and was the 2010 Commencement Speaker at Pennsylvania Academy of Fine Art. She was also invited to be the Clive Distinguished Artist Lecturer at the San Francisco Art Institute in Spring 2010 and the 2009 Spring Season Guest Artist at BAM (Brooklyn Academy of Music).
Heffernan has received a number of grants and fellowships over the years including a Thomas Bennett Clark Prize from the National Academy Museum, NYC in 2008 and the Thomas R. Proctor Prize also from the National Academy Museum, NYC in 2004; a New York Foundation for the Arts Fellowship (NYFA), a National Endowment for the Arts (NEA), and a Fulbright-Hayes Grant to West Berlin.
Heffernan's work has been published and reviewed in major newspapers and periodicals including The New York Times, The New Yorker, The New York Observer, Artforum, Art in America, Art News, Flash Art, Harpers, The Chicago Tribune and Art and Auction.
Her paintings have been described as "downright haunting," "enchanting but eerie" and having an "offbeat punch." And while Julie Heffernan of Art and Design agrees, she says she never strives for those results.
Artist's Statement:
"I began painting in the 70's when Pop had taken over figuration and Minimalism had supplanted Abstract Expressionism. I needed to re-engage the emotions in art, and eventually went my own way, going forward by looking back to the long history of imagery that was still as ripe and potent as ever to me—the golden persimmons of Spanish Still Life Painting, the skirts of Ter Borch, the wigs of Las Meninas. Seen through the lens of feminism, those early paintings had an erotic charge that I mined for my own purposes. What kept me interested in painting throughout the ironic 80's were the pictures that would stream into my brain just as I was falling asleep. They were like a movie in my mind that I would close my eyes and watch. I began to jot down quickly in paint some of these individual "film stills", and then to use them in larger still life paintings as mini "projections" onto enlarged apples and pears. I came to see these thought bubbles as accumulated features of an interior self, and as a way into painting a different kind of self-portrait, one more akin to a truer self, conceived without the distortion of a mirror.
Gradually I was able to pierce the space of the still life and find landscapes that mirrored a similar interiority. They invited you to enter them more and more deeply in a kind of quintessential feminine space. After awhile I came to understand that this "image streaming"—a sort of mental montage—as well as designs I would find in those landscapes, were making a peculiar kind of sense out of my experiences, giving me the components in abstract form to tell my own story.
I became very interested in what narrative painting could mean in an age where we look to film and video for our visual stories. When any kind of story is well told the reader or viewer will, at a point, find herself in the realm of the imagination as the so-called "real" world falls away and we take on the identity of the character around whom the events take place, assuming his or her body. This is the fundamental phenomenon that is central to a good narrative—the assumption of the body of another, the empathic event. Empathy is, at its core, imagination. Our minds create the linkage that allows us to care. In painting, this occurs through the tactile imagination, the ability to feel through our eyeballs.
If I'm lucky I'll unearth a deeper story in the process of painting than the one I started with, one that contains a secret within it, which takes me to a more complex level of understanding. Secrets occur in painting where imagery gives way to moments of felt touch, an odd detail, particularized nodal points that conjure up an awareness of a deeper level of intention. The experience reminds me of the ancient Greek theory of vision, conceived as a kind of effluvium emanating from the pupil that reaches out and touches the object of vision with psychopodia, or mind fingers. This kind of felt touch happens with the recognition of a secret in a painting. We are, all of a sudden, touching inside ourselves, linked for an instant both to our own subconscious experience and to the mind of the artist through its painted corollary buried somewhere in the painting. It is not a simple idea of thick or showy paint that I mean, but a concentrated moment of visual density where the paint embodies focus and speaks to a deeper intentionality, where we enter the mind through the eyeballs of the artist and become her. It is an opening."
Julie Heffernan, Self-Portrait with Talking Stones, 2011, Oil on canvas, 72 x 68 inches
Juror's Lecture: Julie Heffernan
Saturday, March 17, 2012
Room 309, Simons Center for the Arts, 54 St. Philip Street