Professional Development Day!
Saturday, October 27, 2012
54 St. Philip Street, Simons Center, Room 309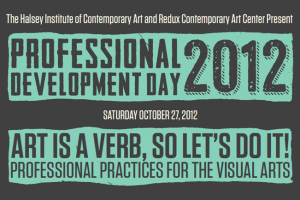 The Halsey Institute of Contemporary Art and Redux Contemporary Art Center are proud to co-produce Charleston's 3rd Annual Professional Development day for visual artists in the Lowcountry. Visiting artist Didi Dunphy will lead this one-day workshop on Saturday October 27, 10am – 5pm. The workshop will take place in Room 309, Simons Center for the Arts, 54 St. Philip Street, Charleston, SC. This workshop is recommended for any visual artist looking to gain a better understanding of the 'non-art-making' aspects to being an artist. Dunphy will present the audience with valuable knowledge and resources for building a successful career as an artist. Registration is required and limited to 50 people. Tickets are $30 until October 20, 2012. After October 20, tickets are $40.
Dunphy will spend the day guiding artists through the crazy world of becoming a professional in the field of the visual arts, based on five approaches: Do It, Work it, Know it, Make a friend, and Run it.
Do It
Participants will address the practicalities of getting ready. This includes a guide through the development of written materials such as the artist statement, the resume, and the big introduction. Being able to speak and write about oneself and one's work is essential. Participants will talk about their goals and design a strategy for success.
Work it
There are many online options for portfolios that will be examined. Promotion that includes social networking, image recognition, documentation and reproductions of works will be covered. What an artist website should look like and which blog platforms to use will also be addressed.
Know it
It is important for artists to be an informed member of the arts. The class will look at the available and various platforms for the visual arts such as the difference between a commercial gallery, a member gallery, a non profit space, a project space and the exciting pop up space.
Participants will learn the etiquette of the opening reception and introduction in that setting.
Make a friend
Partnerships are vital is this wild ride; whether it is a studio mate, a collaborative team of artists, a patron or financial supporter. Participants will be introduced to organizations locally and beyond that can help spread promote the artist, granting opportunities from the civic to the state to the federal, as well as school programs and internships.
Run it
The artist's studio is a professional work place whether it's in the artist's house, a loft or a sewing box; so the business aspect of the arts such as finances and taxes will be addressed. How to price and sell artwork, contracts, intellectual property and copyright law are important topics that will be covered.
At the end of the day, time allowing, Ms. Dunphy will look at individual portfolios to make comments and suggestions. A comprehensive resource list will be provided for every student.
Cost: $30 early registration (before October 20), $40 late registration (after October 20)
To register for this workshop, please call Redux Contemporary Art Center, 843.722.0697 or email info@reduxstudios.org. Your registration for any class is not secured until payment is received. You can call and pay with your credit over the phone, mail a check, or drop by our office and pay with cash, check or credit.
About Didi Dunphy
Didi Dunphy is a native New Yorker, Los Angeles transplant, having moved to Athens with her family, Professor James Barsness and daughter Lucy in 2000. Ms. Dunphy received an MFA from San Francisco Art Institute in the contemporary arts. She is an accomplished artist having had exhibits in major venues such as the Atlanta Contemporary, COCA, St. Louis, Telfair Museum in Savannah, the Jacksonville Museum of Modern Art in Florida, the Armory Center for the Arts, Pasadena, CA and more. A number of features have been written about Ms. Dunphy including Southern Living, Athens Magazine, Craft, CMYK, as well as art and exhibition reviews in the LA Times, SF Chronicle, Atlanta Journal Constitution, and others. Ms. Dunphy's design works; Recess of Modern Convenience Studios, have been placed in a number of collections and included in design publications such as Elle Décor, Paper, Interior Design, Vogue Living, Cookie, Metropolis as well as design book publications including Downtown Chic by Rizzoli, Toy Design by Braun Publishing and Fun Rooms, by Collins Design publishing.
In addition to being an exhibiting artist and designer, as well as a former Professor in the contemporary and digital media arts at the Lamar Dodd School of Art, UGA, Ms. Dunphy works in the curatorial field. Dunphy just completed curating the Instructional Contemporary Art Gallery and permanent collection at her daughter's school, Athens Academy and the spring 2011 Andy Warhol Foundation funded exhibit, "The Way Things Work" at ATHICA, Athens Institute of Contemporary Art and most recently, "Drawn: from Athens", exhibited at the Hudgens Center for the Arts. Ms. Dunphy is the Director and Curator at the Gallery@Hotel-Indigo-Athens and the GlassCube project space.
Professional Development Day!
Saturday, October 27, 2012
54 St. Philip Street, Simons Center, Room 309