SUBMISSIONS DAY | Young Contemporaries 2020
Monday, March 9, 2020
10:00 AM - 7:00 PM
Halsey Institute galleries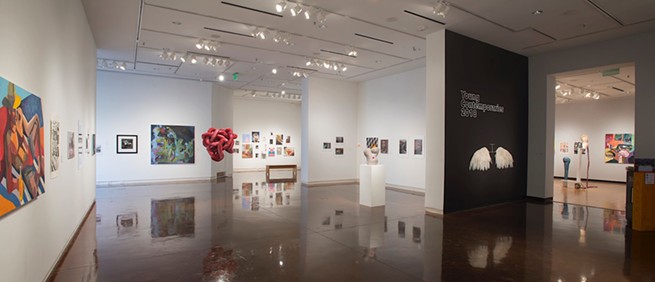 Works to be considered for Young Contemporaries 2020 must be dropped off at the Halsey Institute (in Cato Center for the Arts, 161 Calhoun Street) on Monday, March 9, 10:00 AM – 7:00 PM. You must be present with your artwork in order to sign off on the Conditions for Submitting contract.
Now in its 35th year, the Halsey Institute is proud to present Young Contemporaries 2020. The annual exhibition is a celebration of talented artists at the College of Charleston. With works selected by a nationally renowned juror, the exhibition reflects the strength and diversity of practice in the School of the Arts' rigorous programs. Featuring a wide range of media, including paintings, sculpture, photography, and prints, the exhibition showcases the efforts of the student body at the College.
Painter Melanie Daniel will be the juror for Young Contemporaries 2020.
---
WHO IS ELIGIBLE?
CofC Fall 2019/Spring 2020 Students including December 2019 graduates.
HOW TO REGISTER
Original artwork completed between April 2019 – March 2020. Students may submit up to three pieces per artist, per medium (prints, sculptures, etc.).
Students must obtain yellow labels from the Studio Art Office (Simons Center, 4th Floor) or by downloading it from our website here.)
Fill out labels legibly and attach to the back of EVERY artwork submitted.
Indicate on the label if there are any special installation instructions. To download labels, click here.
Oversized work must also be registered at this time, even if it will be delivered later. Indicate on the registration form if you have oversized work, where it is located, and attach a picture or photocopy of it.
ALL WORK MUST BE DRY!
QUESTIONS?
Contact Bryan Granger, Director of Exhibitions and Public Programs, at grangerbw@cofc.edu
SUBMISSIONS DAY | Young Contemporaries 2020
Monday, March 9, 2020
10:00 AM - 7:00 PM
Halsey Institute galleries