Soup 2 Nuts with Jeff Whetstone | December 7, 2010
Tuesday, December 7, 2010
The Halsey Institute, 161 Calhoun Street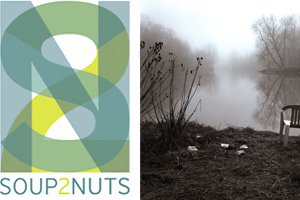 Jeff Whetstone has been photographing and writing about the relationship between man and nature since he received his Zoology degree from Duke University in 1990.
Since receiving his MFA from Yale in 2001 and receiving the prestigious Sakier Prize for Photography, Whetstone's work has been exhibited internationally and has received reviews in The Village Voice, New York Times, New Yorker Magazine, and the Los Angeles Times. Whetstone now teaches in the Art Department of the University of North Carolina in Chapel Hill. In 2007 Whetstone was awarded a Guggenheim Fellowship for a body of work entitled, New Wilderness. In 2008 Whetstone was award the Factor Prize for Southern Art.
During Soup to Nuts on Dec. 7th Jeff discussed his recent project, "On the use of a Syrinx." In Greek mythology Syrinx was a river nymph known for her seductive beauty and chastity. When the Greek God Pan got a glimpse of her, he chased her. She fled into the swamp and transformed herself into reeds. Angered, Pan cut the reeds down and fashioned for himself his famous flute that sings in her voice.
A syrinx is also the name for the organ that gives birds such a great vocal ability. This 14-minute video follows modern hunters in the Lowcountry of South Carolina as they use the sound for conquest.
Soup 2 Nuts with Jeff Whetstone | December 7, 2010
Tuesday, December 7, 2010
The Halsey Institute, 161 Calhoun Street