Slow Art Day 2016
Saturday, April 9, 2016
Halsey Institute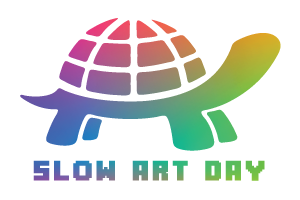 Slow Art Day is the global all-volunteer event with a simple mission: help more people discover for themselves the joy of looking at and loving art.
Why Slow?
When people look slowly at a piece of art they make discoveries. The most important discovery they make is that they can see and experience art without an expert (or expertise). And that's an exciting discovery. It unlocks passion and creativity and helps to create more art fans.
How Does It work?
Join your fellow art lovers and Halsey Institute members on April 9, 11AM – 12PM for an in depth look at and discussion of artwork in our galleries.
Spend 5-10 minutes looking slowly and closely at the five artworks we've chosen in this year's Young Contemporaries exhibition. Afterwards, join us in a group discussion about the pieces in the Simmons Center Courtyard. Please bring a sack lunch to enjoy during the discussion.
Slow Art Day 2016
Saturday, April 9, 2016
Halsey Institute