Poetry Reading >> Prop Rockery
Thursday, February 23, 2012
The Halsey Institute, 161 Calhoun Street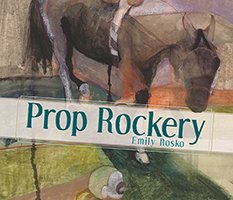 Please join us for a an evening of art and poetry as we celebrate the publication of Emily Rosko's Prop Rockery, which won the 2011 Akron Poetry Prize. The reading will take place at the Halsey Institute of Contemporary Art at 7:00 on Thursday, February 23. The Halsey is currently exhibiting the work of South Carolina native Aggie Zed, whose art also appears on the cover of Prop Rockery.
Emily Rosko is the author of one previous poetry collection, Raw Goods Inventory, winner of the 2005 Iowa Poetry Prize and the 2007 Glasgow Prize for Emerging Writers from Shenandoah. Additionally, she is the editor of A Broken Thing: Poets on the Line (University of Iowa Press, 2011). A former Wallace Stegner Fellow at Stanford University, she is an assistant professor of English at the College of Charleston, and poetry co-editor of Crazyhorse.
Copies of Emily Rosko's books will be available for purchase alongside Keeper's Keep, Aggie Zed's exhibition catalogue. This event is free and open to the public; light refreshments will be served.
Poetry Reading >> Prop Rockery
Thursday, February 23, 2012
The Halsey Institute, 161 Calhoun Street