MICHAEL MORAN & MICHAEL MORAN | FEB 18, 2014
Tuesday, February 18, 2014
5:30-7:30PM
Inside the Halsey Institute of Contemporary Art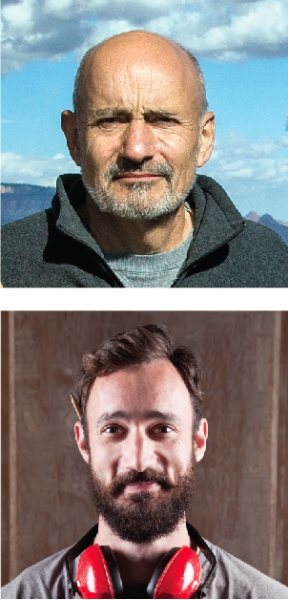 For the first 2014 event, we invited two artists, who shared their process together.
MICHAEL MORAN, wordcraft
Dr. Michael Moran is a retired psychiatrist who lives on a small farm near Frankfort, Kentucky, with his wife Vivian. His collection of poems, The Fallen World, was published by Larkspur Press in 2008. In 2013, October Press published a broadside of his poem "How To Read a Book". His work has been featured on NPR's The Writer's Almanac.
MICHAEL MORAN, woodcraft
Dr. Moran's son, Michael, was born in Kentucky and lived in Tennessee and Wisconsin in his younger years. Academia and sports initially brought him to the College of Charleston in the late 1990s. Since 2002, Michael has been practicing his craft in Charleston, South Carolina, first as an apprentice and then as the proprietor of Moran Woodworked Furniture. In 2013, we commissioned him to create a unique video viewing environment within the Halsey galleries. He chose to create a cavern, complete with stalagmites and stalactites, comprised of stratified
layers of wood. Michael is known to hug trees whenever possible.
MICHAEL MORAN & MICHAEL MORAN | FEB 18, 2014
Tuesday, February 18, 2014
5:30-7:30PM
Inside the Halsey Institute of Contemporary Art