MEMBERS-ONLY WALK-THROUGH WITH EXHIBITION CURATOR, MARK SLOAN
Thursday, December 3, 2015
Halsey Institute Galleries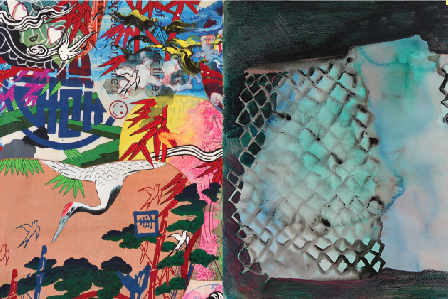 Join the Halsey Institute staff for a fun and exclusive evening tour. Beginning at 6pm, director and chief curator Mark Sloan will lead Halsey Institute members on a guided tour of Jiha Moon: Double Welcome, Most Everyone's Mad Here and Susan Klein: shadow things. Explore the exhibitions, get insider knowledge, meet other Halsey Institute lovers! This tour is for Halsey Institute members only.
To join the Halsey Institute family, please visit halsey.cofc.edu/support/ or call (843) 953-4422.
Based in Atlanta, Georgia, Moon harvests cultural elements native to Korea, Japan, and China and then unites them with Western elements to investigate the multi-faceted nature of our current global identity as influenced by popular culture, technology, racial perceptions, and folklore. Featuring over fifty works, Moon blurs the lines between Western and Eastern identified iconography such as the characters from the online game Angry Birds© and smart phone Emojis which float alongside Asian tigers and Indian gods, in compositions that appear both familiar and foreign simultaneously.
Susan Klein's painting explores questions of time, of accumulation and losses, of spaces that become layered by history. In her paintings, she often combines imagery from separate places and times into one image. Usually, she begins with a landscape painting, sometimes rural, sometimes urban. She then works over these representational paintings, referencing the visual world of objects. The result is an image that is observational, somehow recognizable yet ambiguous. Traces of concealment and revelation remain and the paintings show wear and tear. Irregular surfaces, architecture, botany, gnarly branches, fences, piles of bricks – they swim together to create a dense visual obstacle course.
MEMBERS-ONLY WALK-THROUGH WITH EXHIBITION CURATOR, MARK SLOAN
Thursday, December 3, 2015
Halsey Institute Galleries