The month of May is a great time to support our mission and programming with a donation or membership!
Our staff and advisory board are excited to announce our annual month-long fundraising campaign. Invest in our programming and help the Halsey Institute thrive as a platform for experimentation for artists from around the world. Through the exhibitions we produce, we spur important conversations about the most pressing topics of our time. Together with our members and visitors, we have built an important community resource providing barrier-free access to adventurous contemporary art for everyone.
Join as a member or upgrade your current membership to take advantage of the great May Giving Campaign specials and raffles. In addition to our current membership benefits and programs, we are offering exciting perks for everyone that makes a gift during the month of May!
Did you know that you can pay for your year-long membership in quarterly, monthly, or weekly installments? You can even decide which day of the month is best for your budget!
---
MAY GIVING PERKS
---
All month long: Tag us for 20% off your membership
Post about the Halsey Institute on your own social media account and tag our account on that same platform to receive a special link to join or renew at 20% off our regular membership prices. Is your account private? Send us a screenshot of your post instead. The Halsey Institute has Instagram, LinkedIn, Facebook, and Twitter. Follow us on all four! Limited to one discount per membership.
---
May 1 Kickoff Day raffle: Join us for a rooftop party
Join as a member at any level* or renew your membership on the kickoff day for the May Giving Campaign and you will be entered into a raffle for two tickets to our Spring Patron Celebration at The Loutrel hotel. We'll be drawing one name for this raffle.
---
May 13 Postmodernist level Opening Day bonus perk:
The first person to join as a Postmodernist level ($350) member or above on Friday, May 13, opening day of Kukuli Velarde: CORPUS and Nancy Friedemann-Sánchez: Pinturas de Casta and the Construction of American Identity, will receive one of our Patron Prints, Faith, Hope, and $5,000, p. 266 by fall 2022 artist Kirsten Stolle as a bonus thank you gift!
---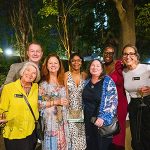 May 1 – 15 perk: Free Upgrades for New Members
Free upgrades for all new members that join at our introductory levels. Purchase a membership at the $40, $60, or $125 level and get automatically boosted to the level above. For example, join as a $125 Futurist member and receive the benefits of a $350 Postmodernist membership. Applies 12:00am May 1 through May 15 at 11:59pm.
---
May 16 – 31 raffle: Lunch Date with an Artist
Join as a member at any level* or renew your membership during these dates to be entered into a raffle to win a lunch date with upcoming artist Kirsten Stolle and our director. Stolle will be in town in August for the opening weekend of her exhibition Only You Can Prevent A Forest. Enjoy lunch on us while she is in Charleston! One name will be drawn from all eligible entries.
---
Giveaway Mondays!
Keep a close eye on our social media accounts (Instagram, Facebook, and Twitter) and your email inbox every Monday in May for flash giveaway raffles. Donate at least $10, join as a member at any level*, or renew your membership for a chance to win great prizes like a signed copy of our newest publication, Halsey Institute's latest tote bag design, or a free membership.
The raffle for May 30 is a blue Power & Glory print by Shepard Fairey! Click the image on the left for a larger view.
Join as a member HERE or make a donation HERE
---
The fine print:
Do you have questions about your current membership or some of the benefits available during the May Giving Campaign? Reach out to our Development Coordinator Selynne Ancheta at AnchetaSM@cofc.edu or call (843) 953-5652.
You can also support our mission by purchasing our tote bags, award-winning publications, and more in our online shop.
Businesses can join in on the raffle fun by becoming or renewing a Community Partner business sponsorship at any level by clicking here.
*Free No Monet memberships for College of Charleston students are exempt from the perks, raffles, and Giveaway Monday promotions.
All gifts are tax deductible to the extent allowable by law. You will receive a letter from the Halsey Institute thanking you for your gift.
You may join, renew, or upgrade your membership over the phone by calling Julia Hammer at the College of Charleston Foundation. Reach Julia at (843) 953- 5113.