LECTURE AND GALLERY WALK-THROUGH WITH FAHAMU PECOU
Saturday, August 27, 2016
Recital Hall & Halsey Institute Galleries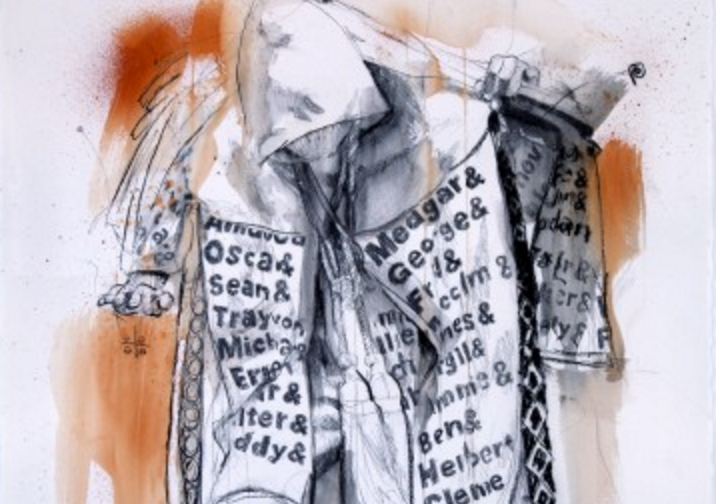 The Halsey Institute will present an artist talk and gallery walk-through with exhibiting artist Fahamu Pecou on Saturday, August 27. The event begins with a slide talk at 2pm in the Recital Hall of the Simons Center for the Arts located at 54 St. Philip Street on the College of Charleston campus. We will then walk down the hall to view Pecou's exhibition within the Halsey Institute galleries.
FAHAMU PECOU



AUGUST 26 – OCT 8, 2016
This solo exhibition features the work of Fahamu Pecou, an artist profoundly involved in exploring the state of Black existence – life and death – today. Violence in our society is endemic and pervasive. Undeniably Black bodies are disproportionately affected, through the shameful legacy of slavery and Jim Crow to current day shootings – the massacre at Charleston's own Emanuel AME church in summer 2015 sadly just one tragic example of many. In the midst of this Pecou asks, "Under looming threat of death, how might we inspire life? Through what mechanisms could we resist the psychological violence and despair inspired by the threat of violence and usher in hope?" Or how might art serve as a "space of resistance?"
DO or DIE: Affect, Ritual, Resistance serves as one artist's action in opposition to these overwhelming societal forces, seeking instead to elevate and re-contextualize Black life and death. Through performance, painting, drawing and video Pecou reframes our view, incorporating references from Yoruba/ Ifa ritual to cultural retentions of hip-hop to the philosophy of Négritude, and through this shapes a story that seeks to affirm life via an understanding of the balance between life and death.
As Pecou states: "DO or DIE is a different type of spectacle, one that distances itself from the terror and violence typically associated with Black bodies. It affirms life and life beyond. It reclaims what was lost, turning our gaze inward and ultimately forward. Through ritual, performance and image, the exhibit challenges the perception of death's dominion. Ultimately, DO or DIE is a reminder of an intimate balance that affirms life. It is art as affective resistance. It is a healing."
ABOUT THE ARTIST
Fahamu Pecou is an Atlanta-based visual artist and scholar whose works combine observations on hip-hop, fine art and popular culture. As Pecou states: "My work seeks to provide a crucial intervention in contemporary representations of Black masculinity. I began my career experimenting with the branding strategies employed in hip-hop music and entertainment. These experiments ultimately led me to question not only the stereotypes engendered by the commodification of hip-hop culture, but more, to consider how the influence of historic and social configurations of race, class and gender impact and inform these representations."
Pecou's work is featured in noted private and public national and international collections including; Smithsonian National Museum of African American Art and Culture, Societe Generale (Paris), Nasher Museum at Duke University, The High Museum of Art, Paul R. Jones Collection, Clark Atlanta University Art Collection and Museum of Contemporary Art Georgia.
LECTURE AND GALLERY WALK-THROUGH WITH FAHAMU PECOU
Saturday, August 27, 2016
Recital Hall & Halsey Institute Galleries