JIHA MOON | Sept 1
Tuesday, September 1, 2015
5:30-7:30PM
Inside the Halsey Institute of Contemporary Art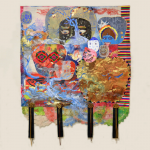 Inside the Halsey Institute of Contemporary Art
161 Calhoun Street, 1st Floor
Downtown Charleston, SC
Current Patron Members ($350+) of the Halsey Institute are cordially invited to our third Meet the Maker presentation of 2015 with featured artist Jiha Moon.
Seating is limited. Your RSVP is requested by Thursday, August 27 to halsey@cofc.edu.
Please bring an open mind and a bottle of wine.
The Halsey Institute is pleased to present an exhibition featuring new works by multi-media artist Jiha Moon (born 1973) on view October 24 – December 5, 2015. Born and raised in Daegu, Korea, Jiha Moon lives and works in Atlanta where she creates work that encompass cultural elements native to Korea, Japan, China the US, and the Internet. Throughout her work these elements are blended to investigate the multi-faceted nature of our current global identity as influenced by popular culture, technology, racial perceptions, and folklore. Moon explores how Westerners perceive other cultures and how perceived foreigners see the West. In her work, Moon acts in the role of a traveler, and explores the notion that identity is not beholden to geographic location. The works incorporate elements of Asian influence such as Hanji paper and Korean silk, along side Westerners' perception of "Asian culture" with fortune cookies and blue willow china patterns. Jiha Moon's work appears as a mash-up of high-and-low brow cultural references. Upon further inspection, slyly ironic and humorous references emerge that are satirically filtered by the artist, who reminds us that our preconceived notion of "others" is not a true manifestation of actual identity.
Meet the Maker with Jiha Moon
Sponsored in part by:


JIHA MOON | Sept 1
Tuesday, September 1, 2015
5:30-7:30PM
Inside the Halsey Institute of Contemporary Art