HI HARMONY: A Free Community Concert
Sunday, August 16, 2015
Charleston Music Hall, 37 John Street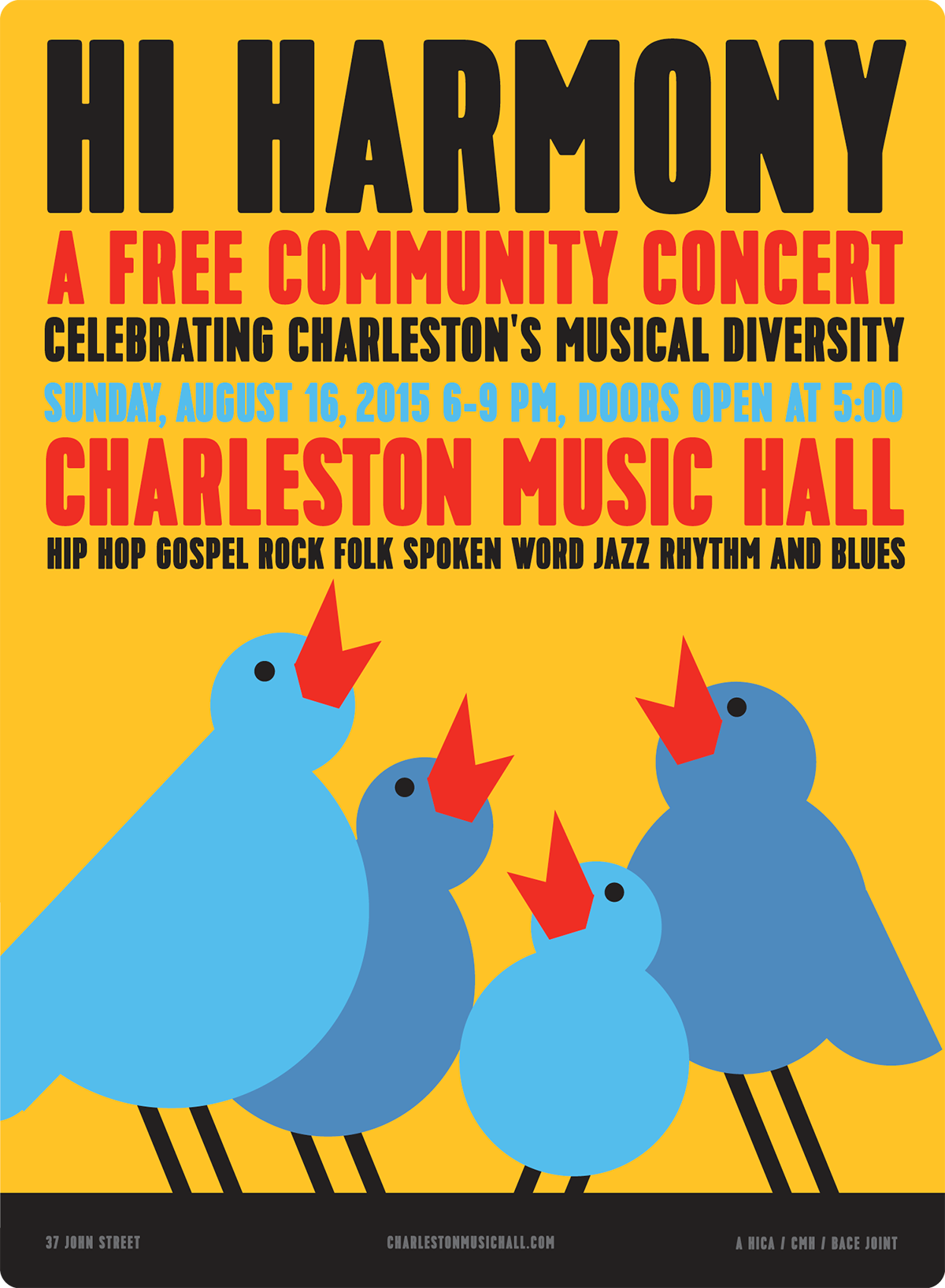 CELEBRATING CHARLESTON'S MUSICAL DIVERSITY
A very special and very free concert is happening at the Charleston Music Hall on August 16th, when more than fifty of Charleston's most active musicians from a variety of genres will share the bill in the spirit of celebrating and cultivating community through music. The unique format will feature six sets spanning Hip Hop, Folk, R&B, Rock, Jazz, Spoken Word, and Gospel, each arranged by a different Musical Director.
Doors Open: 5:00 pm | Concert Begins: 6:00 pm
FREE – Reserve your seat HERE
or in person at the Music Hall Box Office:
37 John Street (843-853-2252) Tues – Fri. 1PM – 6PM
Jazz Artists of Charleston:
A set exploring and integrating several styles and eras of jazz.
Musical Director: Charlton Singleton.
Musicians: Robert Lewis, Dr. Jill Tehar Lewis, Gerald Gregory, Kevin Hackler, Tyler Ross, Ron Wiltrout, and Kevin Hamilton.
Hearts & Plugs:
Musicians from SUSTO, The High Divers, and Infinitikiss performing cosmic vibes with a touch of twang to bring it all together.
Musical Director: Dan McCurry.
Musicians: Justin Osborne, Luke Mitchell, Mary Alice Connor, Julius DeAngelis, Johnny Delaware, Kevin Early, Marshall Hudson, Corey Campbell, Nic Jenkins, and Clay White.
The Whole Shebang:
An eclectic group covering multiple genres spanning Rock, Alt Country, Latin, Jazz, Indie, and Folk.
Musical Director: Lindsay Holler.
Musicians: Lee Barbour, Mackie Bowles, Conor Donohue, Jordan Igoe, Vikki Matsis, Hunter Park, Sam Sfirri, and Leah Suarez.
The Very Hypnotic Soul Band:
Fusing Alternative R&B, Spoken Word, Hip Hop, and Neo Soul for an atmospheric, groove-centric set.
Musical Directors: McKenzie Eddy and Elliott A. Smith.
Musicians: Marcus Amaker, James Choate, Zandrina Dunning, Alicia Modoor, Matt Monday, Michael Quinn, Quentin Ravenel, Charlton Singleton, Amire Solomon, Benjamin Starr, and Corey Webb.
Shrimp Records:
A collective of friends who have been making music together since around the turn of the century and has been the cradle of such acts as Punks & Snakes, Mechanical River, and Shovels & Rope. Every performance is equal parts rock concert and family reunion.
Musical Director: Bill Carson.
Musicians: Jack Burg, Andy Dixon, Joel Hamilton, Michael Flynn, Cary Ann Hearst, and Michael Trent.
The Praise Charleston Combined Gospel Choir:
A combined choir of local Gospel singers and musicians from Charleston and North Charleston performing traditional Gospel and inspirational music.
Musical Director: Mrs. Shari Broomfield and Rev. Da'rrell Ravenell.
Between each set, a community leader will deliver a brief address on the theme of community in Charleston. Speakers include City Councilman Dudley Gregorie, JA Moore, KJ Kearney, Mark Sloan and Kate Nevin.
FREE – Reserve your seat HERE
or in person at the Music Hall Box Office:
37 John Street (843-853-2252) Tues – Fri. 1PM – 6PM
HI HARMONY: A Free Community Concert
Sunday, August 16, 2015
Charleston Music Hall, 37 John Street