Herb Parker and his public works
Thursday, April 19, 2012
Room 309, Simons Center for the Arts, 54 St. Philip Street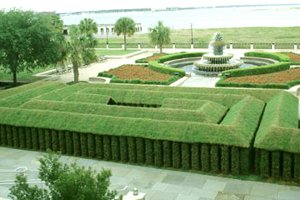 Herb Parker is a sculptor and possibly South Carolina's most prominent site-specific landscape artist. The College of Charleston art professor since 1991, a native of Elizabeth City, NC, has participated in over 50 site-specific interactions in the landscape since the early 1980's. Parker has created public works at botanical gardens, a centuries old Japanese temple, urban centers, universities, rural landscapes and museums around the world. In addition to fifteen states, he has worked in Sweden, Japan, Italy and Canada.
His South Carolina site works include those at the State Museum in Columbia, the Waterfront Park in Charleston, Chandler Creek Elementary School in Greer and the SC Botanical Garden in Clemson. In 1999, Parker was included in 100 Years/100 Artists: Views of the 20th Century in South Carolina Art at the SC State Museum. His work also is in Threshold: Expressions of Art & Spiritual Life, an SC Arts Commission exhibition of art from the Southeast that has been traveling since 2004. Parker has been represented in two SC Triennials and in exhibitions in more than a dozen states. The former U.S. Marine and Peace Corps volunteer holds a BFA and an MFA from East Carolina University in North Carolina and has studied in Italy through the University of Georgia.
This event is FREE and the public is encouraged to attend. A reception in the Halsey galleries will follow Parker's lecture.
Herb Parker and his public works
Thursday, April 19, 2012
Room 309, Simons Center for the Arts, 54 St. Philip Street