GROUNDHOG DAY BENEFIT CONCERT
Saturday, January 31, 2015
Charleston Music Hall, 37 John Street, downtown Charleston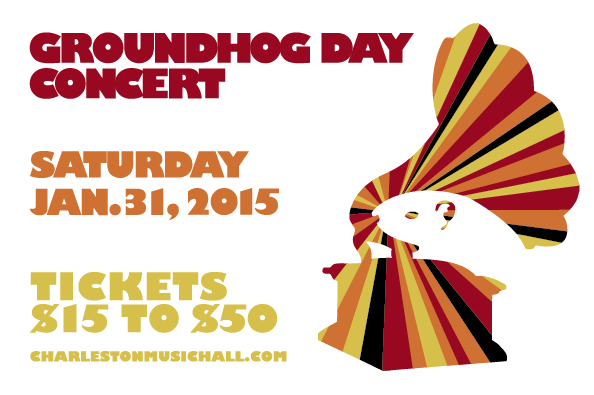 The Halsey Institute of Contemporary Art, in collaboration with the Charleston Music Hall, will present an intimate evening of music featuring Charleston's finest locally and nationally recognized musical acts on Groundhog Day. This unique gathering of musicians will be on Saturday, January 31st, 2015 at 8PM (doors open at 7PM) at the Charleston Music Hall, located at 37 John Street in downtown Charleston, SC, 29403. Tickets go on sale December 19th at 10AM. Ticket prices range from $15 for students with a valid ID to $50 for VIP. Ticket sales benefit the Halsey Institute's programming and are available at the Charleston Music Hall's box office (37 John Street) and online through ETIX.
MUSICAL ACTS
The Groundhog Day Concert will feature music by The Opposite of a Train (Bill Carson, Nathan Koci, and Ron Wiltrout) along with performances by Owen Beverly, Jack Burg, John Cobb, Michael Flynn, Clint Fore, Joel Hamilton, Kevin Hamilton, Lindsay Holler, Rachel Kate Gillon, Jonathan Gray, Mark Sterbank, and Stephanie Underhill. The night will also feature a special cameo performance from Mr. Bonetangles by puppeteer Will Schutze.
The evening's musical director Bill Carson says, "This concert is a way for the local music community to show its support for the fantastic contemporary arts programming that the Halsey Institute of Contemporary Art provides year-round, and year after year. The Halsey often collaborates with musicians, actors, filmmakers, architects, designers, and others to create its unique multi-disciplinary offerings. The participating musicians all want to shine the spotlight on the Halsey Institute in gratitude for their dynamic and inspirational role in this community."
Stage set designed by Sisal & Tow.
"Groundhog Day is an underappreciated and much overlooked holiday," says Halsey Institute Director Mark Sloan, with a chuckle. "The Halsey Institute would like to draw attention by celebrating our third Groundhog Day concert with a special, intimate evening of music. This concert will be a rare opportunity to experience an exceptional collection of musical talent sharing one stage in a single evening."
On the day of the event, the doors will open at 7PM. Tickets are $15 for students, $20 for the Gallery section, $30 for Orchestra, and $50 for limited VIP tickets. Student tickets include any age student and seating is only in the Gallery. VIP tickets include premium seating, a hand-printed poster, and an invitation to an on-stage after party with the musicians. Tickets may be purchased at the Charleston Music Hall box office and through ETIX. Tickets will go on sale at 10am on Friday, December 19th 2014.
VIDEO FROM THE 2015 GROUNDHOG DAY BENEFIT CONCERT

Footage courtesy of Jenny Kleiman
This is footage that was filmed by Jenny Kleiman and projected live while the puppeteer, Will Schutze performed the opening act on stage at the Groundhog Day Concert presented by the Halsey Institute of Contemporary Art in Charleston, SC at the Charleston Music Hall.
VIDEOS FROM THE 2014 GROUNDHOG DAY BENEFIT CONCERT

October 2007 – Song #1 of 31

Joel T. Hamilton Performs Gotta Get Up – Song #2 of 31

Shovels and Rope's Michael Trent performs Burn On – Song #3 of 31

Bill Carson Performs Goodbye, Old Paint – Song #4 of 31

Stephanie Underhill Performs Suddenly Everything Has Changed – Song #5 of 31

Tune Short – Song #6 of 31

Shovels and Rope Perform Hard Times Come Again No More – Song #7 of 31

Brothers – Song #8 of 31

Lindsey Holler Performs Just the Right Bullets – Song #9 of 31

Slow Runner's Michael Flynn Performs A Love that Bends – Song #10 of 31

Joel T. Hamilton Performs Tourniquet – Song #11 of 31

Rachel Kate Gillon Performs Lullaby – Song #12 of 31

A March – Song #13 of 31

Lindsey Holler Performs Feeling Good – Song #14 of 31

Lindsey Holler Performs Forever Always – Song #15 of 31

Art History – Song #16 of 31

Slow Runner's Michael Flynn Performs It's A Wonderful Life – Song #17 of 31

Slow Runner's Michael Flynn Performs You're All I Need – Song #18 of 31

Rachel Kate Gillon Performs Empty Pocket Waltz – Song #19 of 31

Rachel Kate Gillon Performs No No No – Song #20 of 31

Professor Ron Wiltrout's STP Loaner – Song #21 of 31

Stephanie Underhill and Joel T. Hamilton Perform Jóga – Song #22 of 31

Joel T. Hamilton and Stephanie Underhill Perform No Blood – Song #23 of 31

Bill Carson Performs Two Little Blackbirds – Song #24 of 31

Shovels and Rope's Michael Trent performs Cuckoo – Song #25 of 31

Shovels and Rope Perform Hail, Hail – Song #26 of 31

Shovels and Rope's Carrie Ann Hearst Performs Changes – Song #27 of 31

The Typewriter – Song #28 of 31

Cary Ann Hearst, Rachel Kate Gillon and Lindsay Holler Perform Mr. Postman Die – Song #29 of 31

Neighborhood Theme – Song #30 of 31

Liza Jane – Song #31 of 31

GROUNDHOG DAY BENEFIT CONCERT
Saturday, January 31, 2015
Charleston Music Hall, 37 John Street, downtown Charleston