FRANCIS BEIDLER FOREST TOUR
Sunday, September 16, 2018
8:00 – 10:30 AM - EVENT CANCELLED
Francis Beidler Forest, Harleyville, SC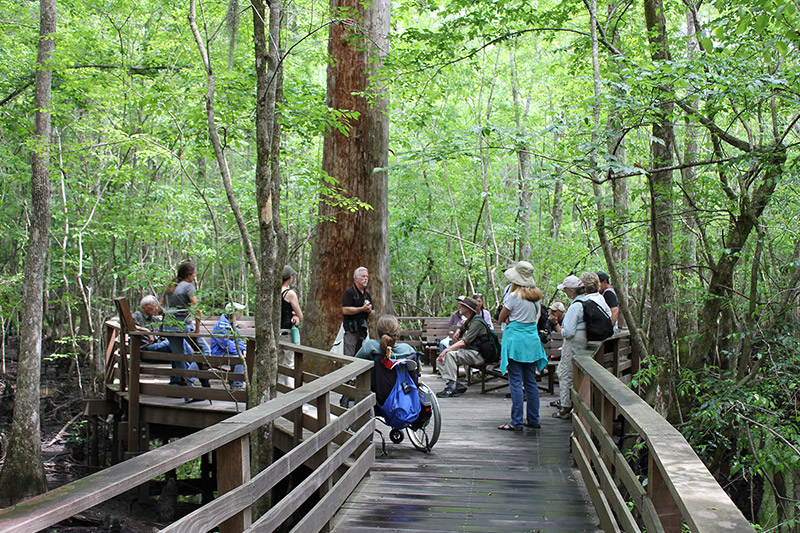 * PLEASE NOTE: THIS EVENT HAS BEEN CANCELLED. The College of Charleston closed for the State of SC's evacuation order during Hurricane Florence.
_____________________
Feel the beauty and serenity of this ancient forest! Frequented by photographers and nature lovers from all over the world, this 18,000-acre bird and wildlife sanctuary offers a beauty unsurpassed in the South Carolina Lowcountry. Francis Beidler Forest is the world's largest virgin cypress-tupelo swamp forest—a pristine ecosystem untouched for millennia. Enjoy thousand-year-old trees, a range of wildlife, and the quiet flow of blackwater, all from the safety of our 1.75-mile boardwalk.
Bring your camera and binoculars and join us at Audubon South Carolina's Francis Beidler Forest in Harleyville for an enriching and beauty-filled 2-hour walk and bird-banding demonstration. Light refreshments provided.
This event is free to attend, but registration is required. Limited to 16 participants. To sign up for a space, please email Lizz Biswell at BiswellL@cofc.edu
FRANCIS BEIDLER FOREST TOUR
Sunday, September 16, 2018
8:00 – 10:30 AM - EVENT CANCELLED
Francis Beidler Forest, Harleyville, SC