Film – The Rescue of Joseph Kony's Child Soldiers
Friday, February 19, 2010
7:00PM
Recital Hall, Simons Center for the Arts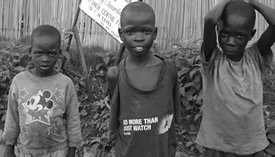 FILM DESCRIPTION:
In the spring of 2003, three young Americans traveled to Africa in search of a story. What they found was a tragedy that disgusted and inspired them, a story where children are used as both weapons and victims. The Rescue of Joseph Kony's Child Soldiersexposes the effects of a 20-year-long war on the children of Northern Uganda. There, children live in fear of being abducted by rebel soldiers and forced to fight in their violent army. It is truly refreshing to see Africa through young American eyes. This documentary is both humorous and heartbreaking, quick yet informative. Audiences started asking "What can we do?" and so, a non-profit was born: Invisible Children, Inc.While providing leadership and inspiration to this not-for-profit, the filmmakers are currently working on a feature-length documentary of this story, soon to be released internationally.The Rescue of Joseph Kony's Child Soldiers is an updated version of Invisible Children: Rough Cut.
film site »
interview with the filmmaker »
FILMMAKER BIOS:
Laren Poole: Prior to creating the documentaries, The Rescue of Joseph Kony's Child Soldiers andInvisible Children: Rough Cut, Poole studied Structural Engineering at the University of California San Diego (UCSD) and lent his design expertise to Jedidiah Clothing Company. Poole took a break from finishing his Structural Engineering degree at UCSD to pursue the completion of Invisible Children: Rough Cut and Invisible Children Inc. He is the Art and Marketing Director for the non-profit. Poole is a recipient of the University of California Irvine (UCI) Human Security Award (2008), the Heartland Film Festival Pioneering Spirit Award (2007) and a Webby for Creative Activism (2007).
Jason Russell: Born and raised in San Diego, Russell is the Director of Invisible Children: Rough Cut. A filmmaker by trade, he graduated from the University of Southern California's film school with a degree in Cinema Production.
Bobby Bailey: Bailey came home from Africa just in time to get his degree in cinema-television at the University of Southern California in May of 2005. He is the director of the Movement short-films and podcasts. Participating in theater during high school and debate in college has solidified Bobby's belief in the power of stories and ideas to radically affect lives.
Film – The Rescue of Joseph Kony's Child Soldiers
Friday, February 19, 2010
7:00PM
Recital Hall, Simons Center for the Arts