Film & Discussion – An Afternoon About CHRISTO
Sunday, March 28, 2010
12:00PM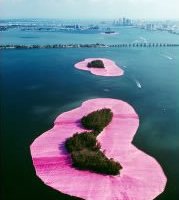 Featuring
Two Maysles Brothers Documentaries:
* 12:00 PM: Islands (57 min)
* 2:00 PM: Umbrellas (81 min)
* Following each film, a discussion will be led by Marian Mazzone & Jarod Charzewski.
BIOS:
[ Marian Mazzone ] serves as Chair of the Department of Art History at the College of Charleston while teaching courses on modern and contemporary art, and art theory/historiography. Prior to coming to Charleston, she worked in the curatorial department at the Columbus Museum of Art while completing her Ph.D. in art history at The Ohio State University.
[ Jarod Charzewski ], a contemporary sculptor and experimental filmmaker, was born in Winnipeg, Canada and received his Bachelors of Fine Art from the University of Manitoba (1996) and a Masters of Fine Arts in Sculpture from the University of Minnesota (2005). Charzewski has been a Visiting Assistant Professor of Sculpture at the College of Charleston since 2006.
An Afternoon About CHRISTO is a collaboration between the Gibbes Museum of Art, Redux Contemporary Art Center, and the Halsey Institute of Contemporary Art at the College of Charleston. This event is free and open to the first 40 guests who RSVP to <<< info@reduxstudios.org >>> for one or both films. The world famous artist will be in Charleston on April 13 for a lecture presented by the Gibbes. These events are dedicated to the memory of Jeanne Claude, Christo's wife and partner.
Film & Discussion – An Afternoon About CHRISTO
Sunday, March 28, 2010
12:00PM