End of the Year Giving Campaign
Friday, December 31, 2021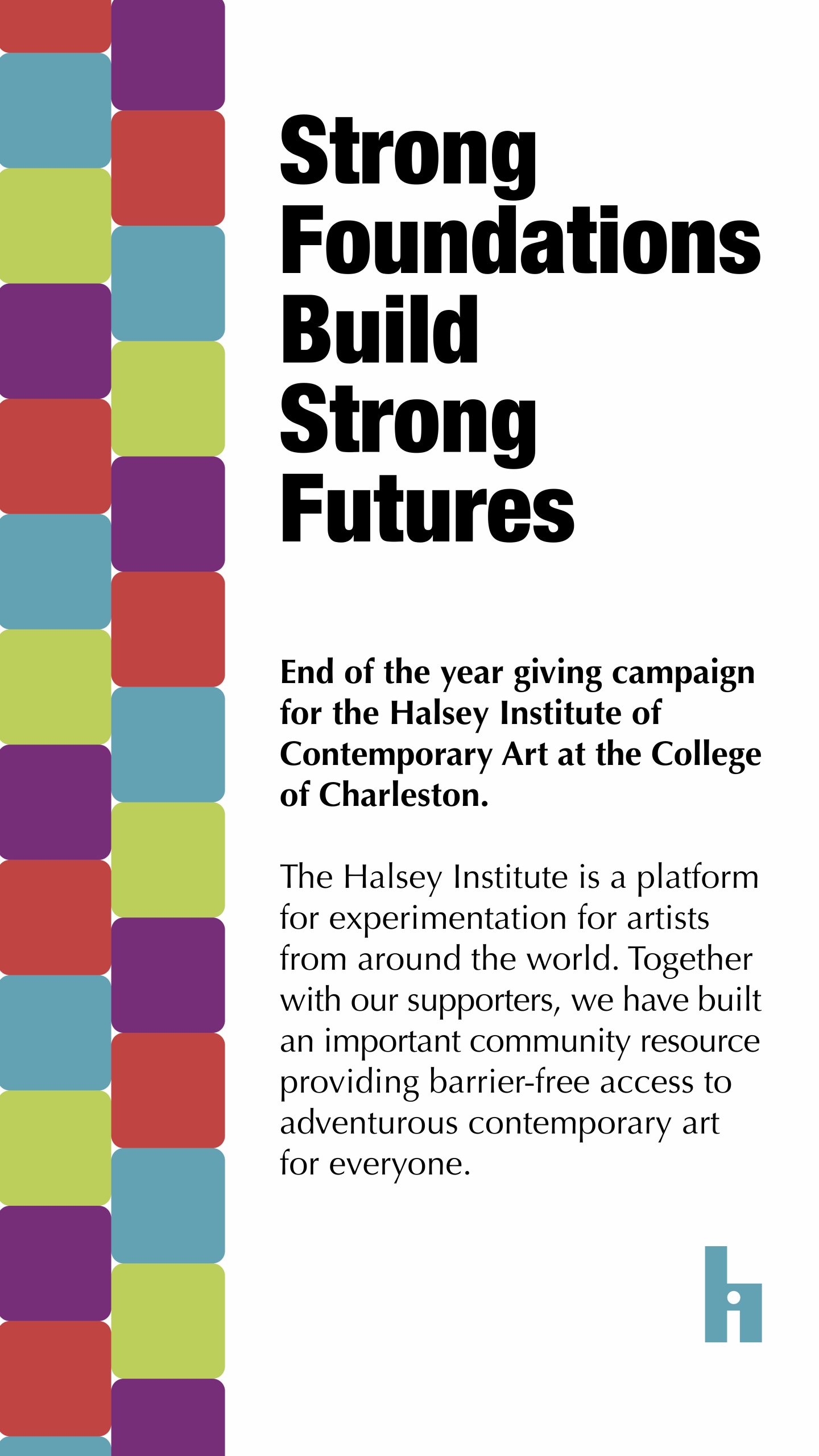 Support contemporary art in Charleston through a gift to the Halsey Institute of Contemporary Art!
Your financial support helps us serve the community by bringing world-class exhibitions and innovative programs for all ages. With your help, we can do MORE for our community. Your donation to our end of year giving campaign helps keep admission free and provides crucial support for our exhibitions, educational offerings, and community programming. All gifts are tax deductible to the extent allowable by law. You will receive a letter dated for 2021 from the Halsey Institute thanking you for your gift.
DONATE HERE between December 1 and December 31 to not only support the Halsey Institute's mission, but also take advantage of some fun thank you gifts!
---
Raffle for December 1 – 15: Free Modernist membership
Donate any amount during these dates to be entered into a raffle to win a Modernist membership. That's a $60 value! Give the membership as a gift or keep it as a gift to yourself. At the Modernist level, you will receive great benefits like free admission to our opening receptions and Family Day! programs, a 20% discount on Halsey Institute publications, have access to almost 200 museums throughout the Southeast with the Southeastern Reciprocal Museums program, and more! One name will be drawn from all eligible entries.
Raffle for December 16 – 31: Lunch date with an artist
Donate any amount during these dates to be entered into a raffle to win a lunch date with our director, Katie Hirsch, and upcoming artist Dyani White Hawk. White Hawk will be in Charleston in mid-January for the opening weekend of her exhibition Hear Her. Enjoy lunch on us while she is in Charleston! One name will be drawn from all eligible entries.
Giveaway Mondays! Fun goodies and exciting experiences
Keep a close eye on our social media accounts (Instagram, Facebook, and Twitter) and your email inbox every Monday in December for flash giveaway raffles! Donate at least $10, join as a member at any level*, or renew your membership for a chance to win great prizes and experiences. Three names will be drawn from all eligible entries for each Giveaway Monday.
Join as a member HERE or make a donation HERE
Support takes many forms and every bit helps. Other ways to show your love for the Halsey Institute include engaging with our programs, inviting a friend to our next exhibition, gifting memberships to friends and family, or purchasing items from our online shop.
---
The fine print:
You can make a donation, join as a member, renew your membership, or upgrade your current membership over the phone by calling Julia Hammer at the College of Charleston Foundation. Reach Julia at (843) 953-5113.
Do you have questions? Reach out to Selynne Ancheta at (843) 953-5652 or AnchetaSM@cofc.edu
You can purchase our tote bags and award-winning publications in our online shop.
You can renew your membership, join as a member, or gift a membership at any level by clicking here.
* Free No Monet memberships for College of Charleston students are exempt from the Giveaway Monday promotions.
End of the Year Giving Campaign
Friday, December 31, 2021