Call for submissions >> Young Contemporaries 2016
Monday, March 14, 2016
Halsey Institute galleries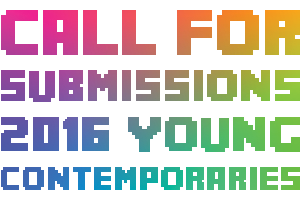 Each spring, current College of Charleston students, and recent grads, are eligible to submit their work to be considered for the Young Contemporaries exhibition. This gives them an opportunity to have their work chosen by a nationally prominent juror and exhibit in a professional gallery setting. For the 2016 exhibition, visiting artist Amanda Wojick has been chosen to select works.
The annual exhibition shows off the brightest talents coming out of the College's School of the Arts, including painters, sculptors, printmakers, and photographers. The Post and Courier calls the Young Contemporaries exhibit, "One of the highlights of the year." This year's entries are sure to impress.
HOW TO REGISTER!
Students must obtain yellow labels from the Studio Art Office (Simons Center, 4th floor), the Halsey Institute (Cato Center, 1st floor) or by downloading from halsey.cofc.edu. Fill out labels legibly and attach to the back of EVERY work being submitted. Indicate on the label if there are any special installation instructions. Bring eligible work to the Halsey Institute on Monday, March 14, 12PM – 9PM. Even oversized work must be registered at this time, while the piece may be left elsewhere. Indicate on the registration form if you have oversized work, where they are located, and include an image of the work. ALL WORKS MUST BE DRY!
WHO IS ELIGIBLE?
CofC Fall 2015/Spring 2016 students (including December 2015 graduates)
WHAT IS ELIGIBLE?
Original visual artwork completed between April 2015 – March 2016. Students may submit up to 3 pieces per artist, per medium (i.e.: prints, sculptures, etc.). There are no limitations on media or size. Download entry forms here.
QUESTIONS? CONCERNS?
Contact Lillie Weatherford at 843.953.5659 or weatherfordle@cofc.edu
Important dates:
SUBMISSIONS DUE
Monday, March 14, 12PM–9PM
CofC Fall 2015/Spring 2016 students (including recent Dec. graduates) can register submissions at the Halsey Institute. Up to three works per artist, per medium, allowed.
JUROR'S LECTURE WITH AMANDA WOJICK
Wednesday, March 16, 6PM
ACCEPTED WORKS ANNOUNCED
Friday, March 18, 9AM
List of accepted works will be posted outside the galleries
OPENING RECEPTION AND AWARDS CEREMONY
Friday, April 1, 5–7PM
Awards Ceremony is at 6PM
GALLERY TALKS WITH ARTISTS
Saturday, April 2, 2PM
MISCELLANY LAUNCH PARTY
Student Literary & Art Journal
Friday, April 15, 5–7PM
Call for submissions >> Young Contemporaries 2016
Monday, March 14, 2016
Halsey Institute galleries