Bizarre Bazaar
Saturday, August 8, 2015
Halsey Institute Galleries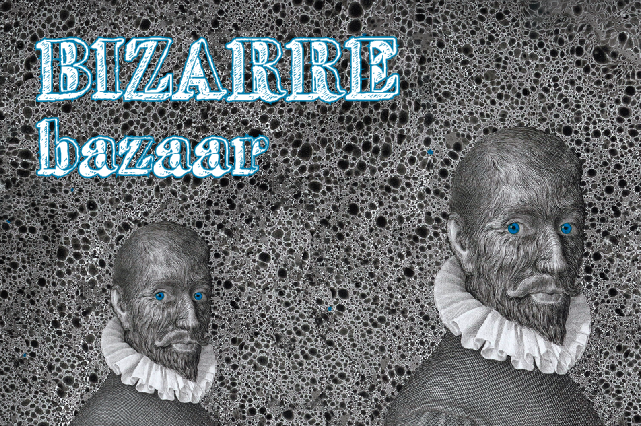 The Halsey Institute of Contemporary Art is hosting it's first ever yard sale. Original artwork, prints, posters, books, fragments of larger works, curiosities, and other objects of interest collected over thirty years of producing exhibitions, will be available for purchase. Prices for these one-of-a-kind items will range from $5 to $5,000, with a chance to grab some freebies while they last. Each object will have a recommended price, but haggling is encouraged. Some of the items include limited edition works by Shepard Fairey, a dried grass suit by Gene Pool, wind drawings by Rikuo Ueda, and charred paintings by Japanese artist Junko Ishiro. There will also be a limited selection of prints by early twentieth century circus photographer F.W. Glasier, the subject of Mark Sloan's book Wild, Weird, and Wonderful: The American Circus 1901-1926.
Throughout the day, there will be performances featuring some of Charleston's finest musicians, as well as a screen-printing t-shirt station. Karen Ann Myers will be screen-printing t-shirts with a special Halsey Institute design. For $10, shoppers can have Myers screen-print a shirt for them or they can buy one at the event for $25. The Bizarre Bazaar will be on Saturday, August 8 2015 from 9AM until 2PM at the Halsey Institute of Contemporary Art, located at 161 Calhoun Street in downtown Charleston, SC 29401. This event is free to enter, but remember to bring cash, checks, or credit cards to purchase any pieces on sale. All proceeds earned will go to Halsey Institute to continue providing adventurous contemporary art in Charleston.
Joining in on the fun is a great line-up of music performances:
As an added inducement to attend the event, Bizarre Bazaar will feature music by Joel T. Hamilton, Infinitikiss, and the Amazing Mittens (featuring members of the V-Tones). A special cameo performance from Mr. Bonetangles by puppeteer Will Schutze will also be presented.
10 AM: Nic Jenkins
11 AM: Amazing Mittens
12 PM: Mr. Bonetangles
1 PM: Joel Hamilton
Joel T. Hamilton is a Charleston-based musician who performs experimental folk music as Mechanical River. Since 2008, Hamilton has been a one-man band; singing, playing guitar, drums alongside his backing tracks.
Infinitikiss is a recent project of Nicholas M. Jenkins, a self-described "sound designer". Currently residing in Columbia, SC, Jenkins creates original compositions using percussions, guitar, and vocals in multiple bands and has released over thirty albums. He will be opening for upcoming exhibiting artist Lonnie Holley on September 12 at the Charleston Music Hall.
The Amazing Mittens is comprised of V-Tones alums Noodle McDoodle and Eden Fonvielle, playing tunes on your favorite instruments from elementary school: acoustic ukuleles, slide whistles, kazoos, and even sometimes tap shoes and pizza boxes!
Mr. Bonetangles, created and performed by puppeteer Will Schutze, is a singing and dancing skeleton with a penchant for classic soul and rock and roll. With an ever-changing cast of puppet side-men, Schutze adds a new twist on the art of puppetry. Mr. Bonetangles had a cameo appearance in the acclaimed movie Chef.
Bizarre Bazaar
Saturday, August 8, 2015
Halsey Institute Galleries